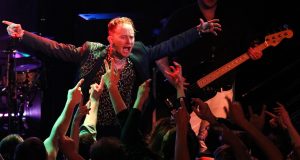 Be honest, you probably missed it. Frank Carter and the ...
Read More »
Kids In Glass Houses album release show with Banquet Records at The Peel in Kingston.
Read More »
You could pinpoint the exact moment that Ben Howard's gig last Wednesday became a phenomenal success.
Read More »
Gary and Ryan Jarman reveal how The Black Eyed Peas behaved like divas and how after 10 years they're still going strong.
Read More »
The boys from Belfast chatted with The River before their ...
Read More »