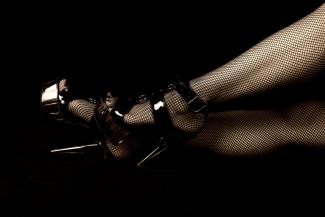 Wiggling her bottom in nothing but a PVC g-string on the dance floor, this is a standard night out for Jolie Trahar. As promiscuous as it may seem, this is just one of many provocative stories the Kingston psychology student recalls from her regular haunts in London's deliciously erotic fetish clubs.
With long red hair, facial jewellery, and sexy flicks of black eyeliner for those demure cat-eyes, the 20-year-old looks like your average university student. You would probably not expect her to be the type of girl to frequent fetish clubs either. That is before she describes Club AntiChrist, where transvestites flaunt their strap ons, dungeon masters who are paid to spank their subjects and not forgetting Jolie's lesbian orgies.
"The first time I went it was with the intention of having a threesome. When I got to the couples' room I started whipping my friend. I was hitting her quite hard so she turned round to me and started making out with me. That was pretty hot and then we fooled around, you know, foreplay."
Does everyone have a secret fetish?
Jolie remembers always being interested in bondage, dominance, sadism and masochism (BDSM), even from the young age of 13 when she and her ex-boyfriend experimented with bondage. This interest sparked her inflamed desire to encounter the fetish scene and she finally took the plunge a year ago. She has become quite openly, a satisfied regular.
"I have been taught there is nothing at all that I should worry about. I'm not some sort of major exhibitionist but I think if people are offended by it, it's their problem, because everyone has sex. Most people have fetishes but they are just too embarrassed to agree."
Fifty Shades of success
With the unprecedented success of the Fifty Shades of Grey trilogy, she is probably correct about those secret carnal desires we are too shy to explore. Since Brit boy Charlie Hunnam failed to be tempted into the titillating lead role of Christian Grey in the Fifty Shades movie, women have been driven wild with lust while they wait in lascivious anticipation to discover which man will render those racy sex scenes on screen.
The proof is in the numbers as Ann Summers reported an increase in sales of the sex toys featured in the book in 2012, including blindfolds (up 60 per cent) rope ties (35 per cent) and paddles (up 30 per cent) with jiggle balls (up 200 per cent) and butt plugs (up 170 per cent) becoming the big favourites.
An S&M instruction manual?
But are the books rendering of a sadomasochist relationship an accurate depiction of S&M? The erotic novels insinuate that S&M is how a psychologically troubled dominant forces a helpless woman to submit to his sadist demands, as a way to deal with adolescent sexual abuse. Jolie says this reinforces the common, demonising myths that shroud S&M.
"It's not good. I feel like Fifty Shades of Grey is very, well, crap. I mean you know it's not very consensual. It's quite rapey almost, and if that is your introduction into BDSM, it's not a good one. It's not an instruction manual definitely."
Common misconceptions of S&M
Sadomasochism is the eroticised use and exchange of power in a sexual relationship between two consenting adults. Bay Whitaker, BACP sexual counsellor, said that despite the misconception that S&M is abusive, the suffering inflicted is used as a tool to achieve the sense of power and pleasure.
"There is a slight risk of injury and I think that is overplayed. I think there is a greater emotional risk because it's an extremely intimate activity and attachments can form very quickly and very intensely."
Is it safe?
Contrary to popular belief, Jolie says the dominant is in fact not in control. The submissive is, as they are the ones responsible for establishing the limits and safe words that stop action when boundaries are pushed.
"It's not about the female submissive being talked into a role. The submissive definitely has more control in the relationship than the dominant.
"The submissive chooses to submit and it's a compliment I think because if the dom isn't good and doesn't attend to the submissive's needs, that's a bad dom."
Whitaker says that safe and consensual is the pillar of BDSM activities and there is a lot of emphasis on communication before play and at points during and after to ensure that both partners feel safe.
Whitaker says: "The sub has more control because the sub can stop everything and in many cases actually what the dom wants is the sub's pleasure. That's what the dom really gets off on."
The danger kink
However, just as the book alludes, there are some fetishes that carry an element of danger. Jolie recalls one memorable moment when a friend who enjoyed a breathing restriction kink, wore a World War I gas mask while raving on the dance floor.
"He was flailing about like a lunatic and we just thought, 'oh his dancing is pretty bad' but he was actually struggling to breathe. And he took his gas mask off, because basically he was half suffocating a bit. You enjoy it, but then you don't really."
Dwarfs or large ladies? Where to find your kink
Breath restriction may be slightly extremist for some, but what is most significant about fetish clubs, is that they are not about alternative sex, but acceptance of what you find. In these clubs, people who do not conform to what is traditionally perceived as attractive, can find partners and explore their fetish in an environment where they will not be judged.
"No one looks at you judgmentally, no one would say anything if you were rather large because there are so many big girls in leather corsets fucking all over the place and completely naked people like 7ft albinos and dwarf amputees.
"I mean if you are into dwarfs you can't go up to any dwarf and be like 'hey, do you want to…?' It's just not cool."