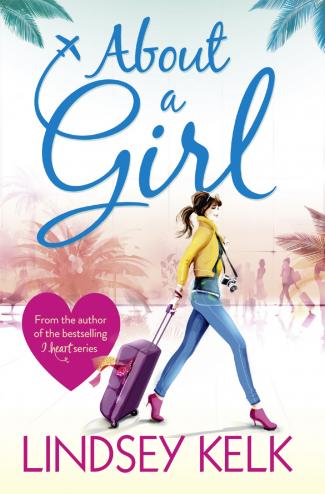 As an English student I get pretty embarrassed when someone asks me what I'm reading and I'm forced to reveal the title of my overly trashy chick lit novel.
Let's face it: for us young women, they're our guilty pleasures. I do not want to finish a 2,000 word essay at 6pm and then start reading some complicated plot about an underpriviledged boy from God knows where. I want glamour; sex; money; gorgeous men; fashion. Everything, that to me, is in short supply. (Minus the sex of course, that is in short supply because I'm an awkward mess and do not have the sex appeal of Angelina Jolie.)
About A Girl is written by Lindsey Kelk, the author of the 'I Heart…' series. New York, London, etc. etc., they're all great, and to be honest I didn't know if Kelk had it in her to write another brilliant book.
Hilarious
Lindsey completely gets you on side with the cute and perhaps a little hopeless lead character, Tess Brookes, who after a crappy week decides that she doesn't want to be Tess anymore: she wants to be Vanessa, her slightly more fabulous housemate. After answering a call intended for Vanessa, Tess accepts a trip to Hawaii to impersonate her flatmate as a photographer on an exclusive shoot. The story is oh so familiar: a young girl trying to find her feet doing silly things without thinking about the consequences. Which, if we're honest, I'm sure we've all done.
Think Jess from New Girl, Bridget Jones, Confessions of a Shopoholic. All of those famous women that are slightly naïve, a little loopy and are most certainly not sensible. Tess is one of those. She's absolutely brilliant, her witty lines – in my opinion – make the book. The author's sense of humour is hilarious; Lindsey has you giggling from the second page and it carries on throughout.
Absolutely scandalous
The characters are perfect, the setting in Hawaii is wonderful and the romance is both dramatic and exciting.
Obviously, if you do not like trashy, lovey dovey girly books, I wouldn't recommend you read this. However, if you do….this is absolutely perfect!
About A Girl is brilliant. It is witty, it is cheeky, it is absolutely scandalous and I'm not afraid to say that it has overtaken Bridget Jones on my 'chick lit' list. And the best part? About A Girl is the start of a brand new series! So we can expect more fun, more mischief and more laugh out loud moments with Tess and her friends.