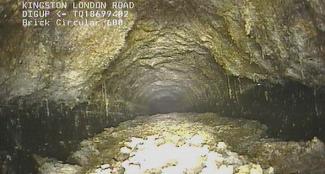 A ball of fat as big as 15 double-decker buses clogging the sewers beneath London Road is causing traffic delays in Kingston that could go on for months.
Urgent repairs were needed after the giant 'fatberg' was discovered in the sewers in August.
Guy Gilbert, campus quality manager, said that the KU1 service had mainly been affected but KU3 and KU4 could also incur minor delays.
Melissa Santos, a third-year human resource management student, said the delays on the university bus have been a pain: "I've missed a couple of lectures because of it."
Mr Gilbert said: "The delays vary depending on the time of day, obviously with more traffic in the morning, and afternoons. This has a greater effect on the buses and the timetabling."
The inter-campus bus is usually timetabled to arrive every 15 minutes but students have been left waiting for much longer.
Ezeldin Alkhaten, a first-year politics and international relations student, said: "The bus is always late. Yesterday I had to wait 40 minutes. It never comes on time."
Thames Water began, what should have been, six weeks of work on the damaged pipes on August 5 but it later emerged that fresh fat was still being flushed into the sewer.
Gordon Hailwood, Thames Water contracts supervisor, said: "We've spent a lot of time drawing attention to the dangers of putting fat down the drain, so I can't imagine where these huge amounts are coming from."
Residents have been informed that repairs could take up to five months and temporary traffic lights will continue to be in place on London Road, with the works being extended between Cambridge Road and Asda.
Local residents are also experiencing long delays. Chrissie Emmerson, an ex-Kingston student and health care assistant at Kingston Hospital, said: "I start at 8am, which has meant leaving at 7am if I have to have any hope of getting there before the start of my shift.
"It's annoying that they have failed to put in place suitable diversions or suggested alternate routes to ease congestion."