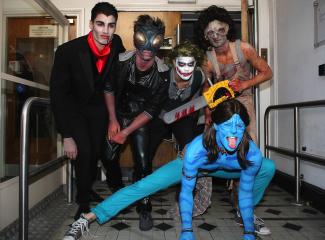 One evening in mid-May, poet and ex-Kingston lecturer, Todd Swift, left a gym in West London after a tough workout and cold shower.
As he began his walk home, he got an unexpected second shower: a bucket of champagne had been poured over him from a room on the second floor of the Marylebone Hotel.
As he stood there, shocked and fizzing, he looked up and saw boy band, The Wanted, laughing and jeering from their five star hotel room. "Piss and beer, mate", they shouted as he stood, silenced and stunned.
This was not a dream. In fact, Swift has said that he's finding it difficult to sleep since the incident, for which the band has yet to apologise.
Dr Swift, 47, a former creative writing lecturer at Kingston, had been walking beneath the band's five-star hotel room in West London when he was attacked and verbally abused.
"Was it urine, spit, acid" Swift wrote in a blog post. "For a few seconds, as it stung my eyes, who knew?
"What struck me was not just the heavy volume of liquid, but the attendant verbal abuse."
The British-Canadian poet wrote that he was now "finding it hard to sleep" and "unable to walk under windows without cringing". The Wanted have yet to make amends, something Dr Swift was promised following the attack.
"I wanted an apology," he wrote. "A man from a company associated with them called and described the event as 'horrific', and said the band would soon be in touch, to support a charity of my choice and apologise. That never happened.
"I can imagine The Wanted have moved on, as according to subsequent news stories, they have continued to be up to no good.
"It is a bullying and nasty thing to do, to taunt an innocent passerby just because you are young, rich and presumably pissed."
The Wanted's public relations agency, Lucid PR, declined to comment on the attack while the police were unable to pursue the case because they could not identify exactly who threw the champagne.
No strangers to controversy, The Wanted have had a number of run-ins with the law this year. In one notable incident, 24-year-old band member Tom Parker defecated into a bag and threw it onto a highway while on tour in Colorado, USA.
Dr Swift spent seven years teaching English literature, creative writing and languages at Kingston before leaving to teach at Glasgow this summer. Alongside his teaching duties, Dr Swift is the founder and director of London-based publishers, Eyewear.
Read the full account of his story on his blog www.toddswift.blogspot.co.uk