A Kingston student said he felt like a "proud parent" after seeing his musical on the opening night and that he hoped the next step for the show would be the West End.
Joseph Alexander Raggett, the composer of The Daily Fail: The Musical, explained that seeing the audience sing along to the music he had written was an "amazing" experience and that the show had been well received.
"You feel like a proud parent," said Mr Raggett. "I was on my own writing these songs from January and now they are on a stage in London.
"It is amazing when you hear the cast sing your songs and it sounds exactly like what I was thinking. When I get the goose bumps is when I think 'we're on to something."
Mr Raggett said that taking the show from Kingston to London was a big step, but he still hoped it would go further.
He said: "The West End is obviously the big dream, but we are very happy at the moment with the way things are going.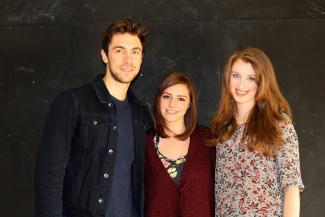 Fiona O'Malley, who has written and directed the show together with Adam Wollerton, both recent KU graduates, said: "It's been really well received and I feel a lot more confident after the second night.
"Joe is a truly fantastic composer and the audience leaves humming his music which is a sign of a strong musical production."
Miss O'Malley explained that the Levison inquiry and the hacking scandal inspired the musical and that is was about "fame, friendship and the dangers of bad journalism." She said: "I tried to think of how I'd react if I was in the boots of the celebrities who had their phones hacked.
"It must be so isolating, intimidating and a constant erosion of your self esteem to be under the pressure of the limelight and this is what the musical reflects on."
The Daily Fail had a sell-out run at The International Youth Arts Festival last summer and is now running at the Waterloo East Theatre until Sunday 20th.
Mr Raggett explained that the musical follows two women who desperately wants to become famous, but have no talents. Even so, they get their wish granted by a Rupert Murdoch-type.
Miss O'Malley and Mr Raggett agreed on a common goal and she said that they are already working on a new musical. She said: "Our goal is to hit the West End."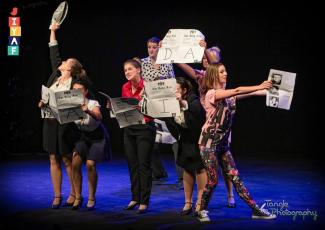 What: The Daily Fail: The Musical
When: Tuesday 15 – Saturday 19 October, 7.30pm; Sunday 20 October, 4pm
Where: Waterloo East Theatre, Brad Street London SE1 8TN
Cost: £15, concessions £12
Book: Theatre box office (no booking fee), 020 7928 0060