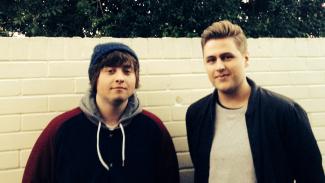 A KU student and one half of music duo Catchment who recently featured on BBC Radio 1Xtra is set to release a remix for giant music brand UKF.
Third-year music technology student Chris Haggett was featured on BBC Radio 1Xtra DJ MistaJam's show last month and has been creating a remix for up and coming artist Lena Cullen along with his partner Alex Tyley.
"I have a feeling it will get tricky running Catchment and studying for third year but I'm ready for that and we will make it work," said Chris. "We plan on making lots of new tunes for everyone to love, to keep writing and keep working hard."
Up-and-coming
The duo, both 21, from the south coast near Bournemouth, create their music – which is a mixture of bass, house and garage – on their laptops.
"Engine-Earz is the artist we remixed and it will be put out on UKF soon," said Haggett. "We have also done a remix for Lena Cullen which will be going out on Shadow Child's label, Food Music."
Radio 1Xtra DJ MistaJam plays music from up-and-coming artists and featured Catchment last month. "I'm into it and it's great. Remember where you heard it first," he said on the show before playing song Integrate.
Working hard
Although they live apart they communicate through email to discuss new music and manage to meet up every few weeks. Alex and Chris have been writing since they were 15 and had their first DJ gig at Chris's college freshers' party five years ago.
The pair have just finished another song and are thinking of going down the route of putting their music on YouTube channels instead of radio.
"YouTube channels such as Alias UK Bass –a YouTube channel which specialises in UK bass music – are quite big and have thousands and thousands of subscribers and generate loads of views, more than radio," said Chris.
Featured on 1Xtra
"It's such early days, all we are doing now is making tunes so we have a body of work and have enough material to promote or gig," added Alex.
Their song, Integrate, featured on BBC Radio 1Xtra is available for free download on their soundcloud. Www.soundcloud.com/catchment.