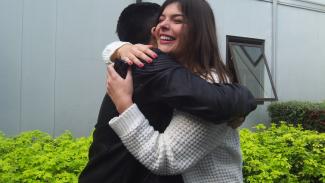 The winners of student elections were announced at Penrhyn Road's Space Bar today (October 25) at midday.
Students waited nervously as the results appeared one by one on the screen opposite the bar.
The winners are as follows:
Environmental and ethical officer: Noor Khan
International students' officer: Catarina Demony
Women's officer: Elaha Walizadeh
Disabled students officer: Amina Morsy
Partner college officer: Harriet Baggley
Student media officer: Toby Yusuf
Postgraduate students' officer Philip Soneye
Part-time students' officer: Vino Suseetharan
We spoke to some of the winners following the announcements.
Noor Khan, the newly elected environmental and ethical officer said: "I'm feeling crazy happy right now. The main thing that I want to say is that I hope and I will deliver."
"I am so happy, I can't describe my feelings right now," said Vino Suseetharan, part-time students' officer. "I'm looking forward to this year so thank you to everyone who has voted for me. Thank you so much."
During the celebration, women's officer Elaha Walizadeh was congratulated by phone. She said: "I was so nervous I couldn't even come in. I'm so happy and excited. There's so much I want to change at the university, I can't wait to get started."
After a hard week campaigning, Catarina Demony was thrilled to be the new international students' officer. "This week was a bit exhausting," she said.
"I've been campaigning every single day. I talked to a lot of students and met a lot of great people."
However, she also commented on the comparatively low number of votes collected in total.
"I still feel a bit sad that the cast of the votes wasn't as high as we expected considering that we have thousands of students at the university. I hope that students take this as a lesson for the next elections in the coming year."