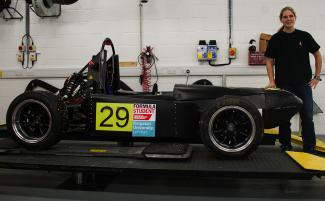 A KU engineering student has been nominated for a Leader of Tomorrow award for an outstanding racing car design.
Sabine Brosch, 23, said that despite being one of the few women on her course, she refuses to be treated differently from her male peers.
"This nomination came completely out of the blue. I am surprised and excited," she said. "I want to be known for the excellent work I do on my course rather than just standing out for being a woman engineer."
Brosch said she was happy to be noticed for her Formula car, which is to be raced at Silverstone next summer. The Leader of Tomorrow award, presented by Automotive Supply Chain Global, aims to encourage people under 30 to consider a career in car engineering.
Sabine was nominated by her KU principal lecturer, Gordana Collier, who was impressed by her effort in a Formula student project.
International initiative
Ms Collier said: "She is a determined and able young engineer, who never gives up. She has been an inspiration to our student community.
"Sabine has been one of the leading members, inspiring our club team building a racing car."
The Formula Student car project is an international initiative established by Kingston University last year. It aims to inspire students to experience the practical side of engineering.
Sabine said: "I think it is a very good project in terms of the way it gets people from different levels and different courses throughout the university to work together in a practical project.
"I think the award ceremony will also be the perfect chance to get publicity for the Kingston Univesity Electric Formula team."