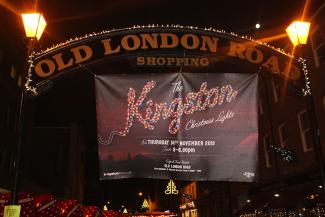 Kingston kicked off the winter season and wowed residents and visitors with its annual Christmas lights switch-on ceremony.
The much-awaited event put together by Kingston First, the borough's own Business Improvement District, gave start to a programme rich in family events, Christmas markets, late-night shopping and entertainment for all.
Kingston First's commercial and marketing manager, James Kennedy, was excited to show off this town in the right light. "It's always our busiest event. I got a board of elves and Santas, but this year there will be things like fire eaters on stages, tight rope walkers, and lots of live music around town, it's going to create a vibrant atmosphere."
Hundreds of people crowded around the Radio Jackie stage at the Bentall Centre and joined Kingston's mayor, Penny Shelton, and Father Christmas for the official countdown, which culminated in the town centre's lights being switched on at six pm.
KU volunteers
Nine KU students volunteered, teamed up with Kingston First, and used donated material to create a grotto in the old working men's club on Old London Road for young children to take pictures and receive gifts from Santa.
"There was a lot of sketching involved, but I think our ideas were driven by our own Christmas experiences and nostalgia," said Ben Ntumi, a 21 year-old product and furniture design student.
"It's nice to help communities, especially local ones such as Kingston First, as we are able to see the difference we've made first hand."
The grotto opened its doors on Thursday, and will be up for three weeks for children to visit and will host storytelling events
Circus theme
This year, the traditional Christmas event came back with an unusual twist: "There's an all-around circus theme this year. It's one of those things where, every town has a Christmas light switch on. We differentiate because we link up with the Rose Theatre, so whatever they do, we kind of roll out the theme accordingly," said Kennedy.
With five stages of live entertainment around town, Kingston animated its streets with light and festive music. These celebrations also marked the opening of the annual Christmas Markets that are open from ten am to seven pm daily and will offer traditional treats like mulled wine and run until the new year.
Cultural hub
By organising big events like this one, Kingston First hopes to encourage the town's visitors to discover what this quirky cultural hub has to offer, and ultimately raise money for charity.
As Kennedy put it: "If Kingston is going to compete with the likes of Westfield, and Croydon and Guildford it has to stand out a little bit.
"We'd like to do that through culture, whether it is dance, music, design, anything like that. If we can animate the streets, that's the only way we can differentiate ourselves."