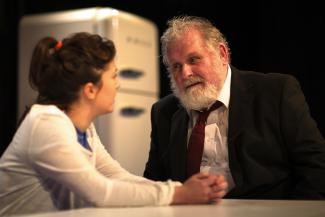 In this bizarre play that explores societal issues that no-one wants to face, Terms and Conditions fails to overcome the weak motivations scripted for the small cast.
Despite moments of genuine comedic brilliance, it ultimately becomes an attempt at portraying man's battle with morality that crumbles on an unfathomable premise.
As a young couple move into their new home, they find the unspeakable in their cellar: a mysterious man.
In an unexplained justification of their shame, Walter (Jermaine Dominique) and Kat (Jennie Gruner) attempt to hide him from society and help the man they feel would be failed by the government if reported.
Their interactions are both tender and humorous, providing the necessary light relief to keep the audience engaged when writer Patrick Marmion's intended surrealism fails.
Gruner and Burside carry the production
If the objection to removing the man from their home was not peculiar enough, their enthusiasm to utilise him as a babysitter for their eight-year-old son Jasper, who is inexplicably played by an adult woman, undermines any credibility the play could have.
As they entice him from the cellar and begin to talk to him, they discover the curious gentlemen, Liv (Mike Burnside), is a talented violinist and encourage him to give Jasper lessons.
The performances from Gruner and Burnside carry the production, giving light and life to characters built on feeble foundations.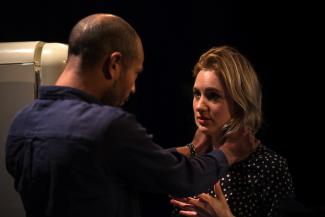 The show's exploration of immigration gives a less reassuring, more unsettling depiction of an issue that surely does not need to be portrayed as so threatening and invasive.
Despite scattered humour and some strong dialogue, the play stumbles on a drastic surreal premise and the inability to suspend the audience's disbelief.
This peculiar combination results in an unusual, although amusing, evening in which you cannot be sure if you have wasted, or escaped to an alternative reality.