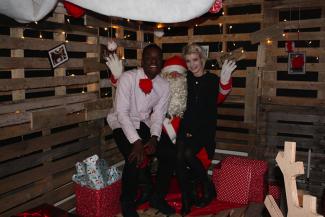 Nine student volunteers created a 'magical wonderland' for kids to visit and take pictures with Father Christmas during Kingston's Christmas lights ceremony.
A group of product and furniture design third-years at Kingston University teamed up with Kingston First, the borough's business improvement district, and made a Christmas grotto out of recycled materials.
James Kennedy, commercial and marketing director of Kingston First, was extremely pleased with the students' efforts: "It's completely under their ownership, it looks really lovely. Working with such young people is so cool.
"The Christmas lights event is so stressful, but the grotto and the students have been this kind of light of energy which has just made the bad days a little better."
There was no money being spent on this project, as businesses in Kingston such as Clas Ohlson and Cath Kidston also contributed by giving lights and decorations to make the students' 'magical wonderland' come together.
Bentall Centre's refurbishment also collaborated with the creation of the grotto by donating recycled material such as LED lights, pallets, and bits of plywood.
"My colleagues and I have enjoyed working on this project, it was a great opportunity for us to give something back to the Kingston community," said 21-year-old product and furniture design student, Ben Ntumy.
All the money made from this project will go towards design shows for the students, and Love Kingston, which is Kingston First's official charity.
"It's nice to work with communities and charities, especially local ones, as we're able to see the difference we've made first hand," said Ntumy.
The grotto, located in the old workmen's club on Old London Road, will be up for three weeks after its opening night on November 14, and will also host storytelling events for children.