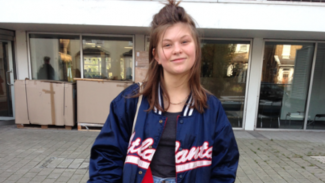 Unsure of what to wear? Can't afford a new outfit? Take a look here at KU's most fashionable this week and see how to dress this season and how to grab a bargain!
Patterns

Name: Frances McCain
Age: 20
First-year fashion design student
Jacket: Charity shop
Scarf: Charity shop
Shirt: Topshop
Dress: Topshop
Shoes: Doc Martens
Frances shows that it is okay to mix and match different prints. It definitely shows off her creative side with a fun and bold outfit.
Frances has kept the pattern colours similar with a mixture of reds, browns and khaki – which is also very autumn. She keeps to a similar set of matching colours so the outfit isn't too over the top. Try to keep to pairing one large pattern with a smaller pattern like here with her coat and shoes if you are going for a similar look.
Fashion tip: Pair patterned items with black accessories like tights or a handbag to tone down the outfit.
Be bold and be bright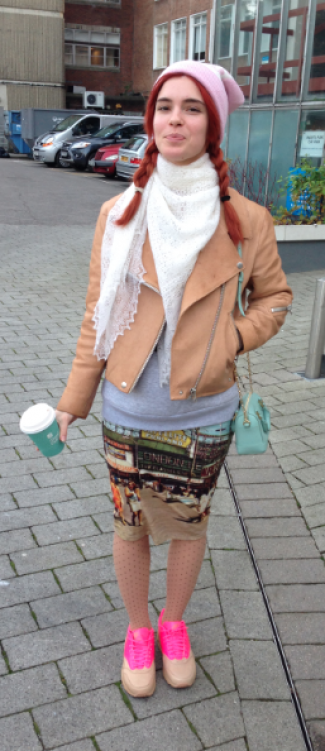 Name: Elena Gatsenko
Age: 22
MA Fashion student
Hat: Joyrich
Scarf: Traditional Russian scarf
Jacket: Acne
Jumper: Russian designer
Shoes: Nike
Skirt: Topshop
Tights: Wolford
Bag: Tory Burch
The days are getting shorter and the nights are getting darker, which most of us hate. So why make your outfit dark? Be more like Elena and brighten your outfit and take away those winter blues!
Midi skirts are often difficult to pair shoes with but Elena shows us that trainers look perfectly fine and also very comfortable.
Fashion tip: Add patterned tights to an outfit if you are feeling a bit plain.
Mom jeans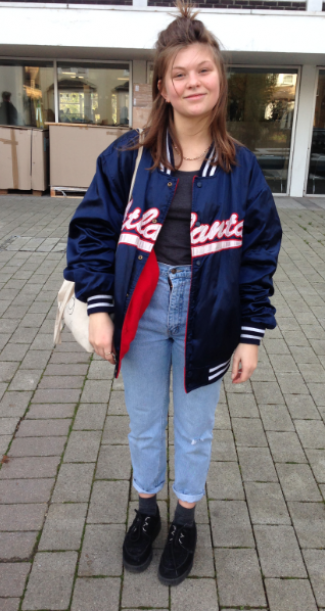 Name: Ellie Ashdown
Age: 21
Third-year fine art student
Jacket: Charity shop
Top: Uniqlo
Jeans: Vintage
Shoes: Creepers
With a chill in the air it is often hard to style rolled up jeans. Ellie has ditched the summer pumps for a pair of brothel creepers. Try this yourself if you don't mind your ankles getting a little cold!
A baseball jacket can easily be paired with any outfit, including dresses if you want to tone it down so you don't look too frilly and girly.
Fashion tip: Tuck in shirts and tees into mom jeans, like Ellie is wearing, to show off the flattering high waistlook.