By Josephine Platt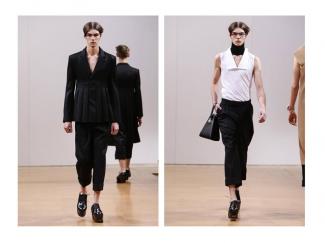 Though his sideline had been kept a secret until now, images from the show printed in VOGUE and GQ revealed what the 19-year-old had been up too.
He is off to Milan this week for talks with the people from Prada.
"I kept modelling a secret for ages," Alexander said. "I had to make up excuses when I was at castings. I would say I was at dentist appointments, though it was all revealed when a photographer tagged a photo of me from the JW casting on Facebook."
Alexander chose to study at Kingston for the proximity to London. It was while he was at an art exhibition at the Royal Academy in Piccadilly that he was scouted by model agency Established Management.
After missing the first few days back at uni after the Christmas break – working for luxury outfitters Kent Curwen – Alexander has finally been able to lie in following a stint of 4am starts.
Juggling the job
He said he was juggling education and a job that can bring in £1,000 a day, but he has no plans to quit his degree.
He might miss classes for a good show, however, as the work is unpredictable.
"One minute it's really quiet, the next week you're at a casting for JW Anderson or McQueen," he said.
With his first fashion week under his belt, Sam expects to appear in more shows in up-coming seasons. "Paris is coming up, and then it could be Milan. I'm on hold."
He described his first catwalk show, where the men donned high heels and platforms, as androgynous. "It's a feminine approach to the season," he said.
It was difficult but it was his job to make the walk look effortless. "I enjoyed getting in character; it was almost like being in fancy dress- creating an alter ego."
Alexa Chung
Alexa Chung was in the audience to watch his moves.
Though he had never considered a career in modelling, he was aware he had potential after being head hunted in his home town of Fremington in Devon. "It feels good to be nervous. You get a little strut on," said Alexander.
After comparing his initial feelings to that of a "rabbit caught in the headlights", Alexander has seized the opportunity to earn some extra cash and see the fashion capitals of Europe.