Beans on Toast dazzled the audience once again on Tuesday night at Banquet Records for the eleventh year running, with an in-store show playing songs from his newest album.
None of the audience seemed to mind when Beans walked around the corner with his guitar in his hand, 40 minutes late. 
"Sorry guys, I didn't realise you had to wait for me outside. I feel like I can blame the trains a bit for this," he said before making a joke using the title of the album: The inevitable train wreck.
"More like the inventable train delay," he said laughingly before starting off with the first song; World Gone Crazy.
Wondering if the new album is any good? Read Marie's review of it here!
Boris Johnson
Beans' view of a world gone crazy is front and centre of his music. You only have to look as far as his song titles to see it: Rich vs Poor, Extinction No.6, Truth Be Told.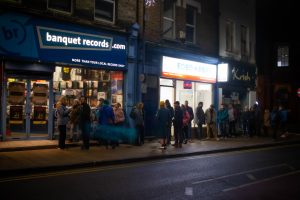 Even though Boris Johnson only became the prime minister a few months ago, Beans still managed to mention him twice throughout the album.
"I'm glad that I got it out now before we get rid of the motherfucker," he said to the laughing audience.
It is fairly easy to know what side of politics Beans is, but he said that even though a lot of his songs are quite sombre he was still an everlasting optimist.
"I think Jeremy Corbyn will be the prime minister. I think in order to survive the coming days I need to be hopeful, fuck the polls, who needs that shit.
"He is the last hope for the country and I have a lot of faith in the man," he said.
Beans said that writing songs that are up to date when they come out have always been a bit of a struggle as he writes political songs, but that this year it has topped itself: 
"Your songs usually have a lifespan when you write songs like this, but I've never written songs before where I write them during the summer and then I record it and put it out in the winter and then it's already outdated by the time it's out."
Didn't have time to go to the gig yourself? Watch this short video!
Rock 'n Roll
For avid Beans fans, it is easy to notice that this album is different from his previous releases.
The reason for this is that it is a rock 'n roll album made in collaboration with the much-loved family band: Kitty, Daisy and Lewis… minus Daisy as she recently gave birth.
"I wrote a bunch of songs that were quite bleak miserable songs. I know people didn't want more bleak miserable songs sung by a guy with a guitar, so I wasn't sure how to present it to the world.
"I know Kitty and Lewis from back in the day and they are a wicked rock 'n roll band. And asked if they wanted to work with me."
Beans gave the band a great deal of credit for the making of the album.
"I kind of presented them the songs and in the studio, I was just kind of sat in the corner while they transformed my songs into what you now will hear in this new album. 
"They basically just rewrote the music behind the songs so much that some of them I can't even play," Beans said.
Beans said that not having as much to do making the album has made him even more proud of it:
"I never really listen to my albums but this one is so different between when I do it live and in the album."
Countless times
Even though the songs are vastly different from how they are played on the album and how it is performed live Beans still managed to play through all of them, except one.
"This one is just so different that I can't manage to do it justice, listen to it when you come home, it's really good," he said instead.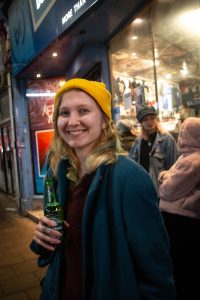 The whole crowd seemed to love the new feel of the album including Kingston University fashion student, Molly Moreton, who has seen Bean perform countless times before:
"I discovered him a few years ago and have been a big fan ever since.
"He is one of the best live shows I've ever seen. I saw him two years ago here at Banquet and then one year ago when he had a show at Pryzm," she said. 
Moreton knows exactly why she likes him so much:
"He is just such a good storyteller," she said. 
Beans is not unfamiliar with Kingston, having played gigs here many times, but there is another reason to why Kingston is also close to home for him. 
"My wife studied at Kingston University actually, and she worked at TGI Fridays here in town, so I've heard all sorts of stories about Kingston and really feel connected to it through my wife," he said.