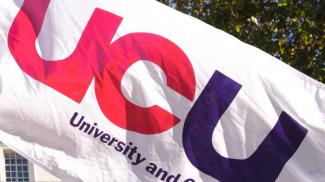 Kingston University lecturers will join the nationwide strike of university staff during Reading Week in a dispute over pay.
It is the first joint higher education strike in the UK, with three unions taking part on October 31.
Simon Choat, the membership secretary of Kingston's University and College Union (UCU) branch, said: "We want to see as many staff as possible on the picket line and we hope that students will join us too.
Demotivated lecturers
"Having poorly paid and demotivated lecturers doesn't help students, so we hope they'll support us."
He hoped that the strike would increase the pay rise for Kingston's lecturers.
The university has offered a one per cent pay rise, which Mr Choat described as "insulting".
"No lecturer enjoys going on strike, because we know that it can be inconvenient for students, but we feel like the employers have left us with no other option," he said.
Suffering staff
"We are striking to protect our pay, which has fallen by around 13 per cent since 2009."
However, the day of the strike will fall into Kingston's Reading Week, minimising the impact on students.
The UCU ballot on whether or not to strike closed on October 10. More than 60 per cent voted in favour of a strike.
The results for unions Unison and United Trade Union were 54 per cent and 64 per cent, respectively.
Nationwide strike
Michael MacNeil, the UCU head of higher education, said: "Staff have suffered year-on-year cuts in the value of their pay. Quite simply, enough is enough.
"We urge the employers to reflect on the fact that they are about to fight their first-ever strike by three unions at the same time and come to the negotiating table to resolve this dispute."
The Universities and Colleges Employers Association (UCEA), which represents universities as employers, said it was disappointed by the move.
Additional reporting by Zia Weise