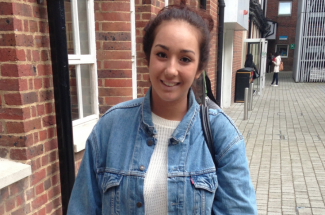 With the wonderful mild Autumn weather we aren't quite ready for coats and scarves yet to cover up so there is still time to flaunt your best outfit.
It is time to make the most of university, dress up and make a statement. You never know, you could spot yourself on this page soon.
DIY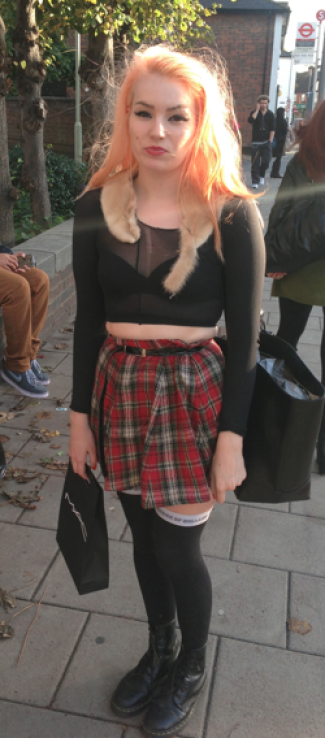 Name: Melanie Drinnan
Age: 19
First-year fashion student
Top: DIY
Skirt: Vintage
Fur: Vintage
Socks: House of Holland
Boots: Doc Martens
Bag: Zara
As we saw in a past Street Style: Spotted On Campus post tartan is on trend right now. Tartan leggings, scarves, skirts or tops are a must have in your wardrobe this autumn/winter.
Expect to see a lot more tartan on future street style posts. Melanie's socks are a great autumn item and substitute for tights before the temperatures drop too low, plus they look fantastic with the mini skirt and boots. A mixture of grunge with glam.
Melanie has also made her outfit a bit different by adding a top she made herself. Mesh tops are popular right now and making your own could save a few pounds.
Fashion tip: Want to try something different? Why not make your own top out of an old pair of tights. Try this tutorial.
Oversized

Name: Dorothy
Age: 20
Second-year architecture student
Shirt: Grandads
Leggings: Topshop
Boots: Doc Martens
Bag: From Amsterdam
The boyfriend trend has been popular for a while and is a style that never seems to fade. Try oversized shirts or padded shouldered jackets but keep the outfit looking feminine with a pair of tight leggings and some bright lipstick.
Red lipstick is a great shade for winter. It is striking and can easily brighten up an outfit which is perfect as winter is a time when most people start to wear darker and plainer colours. Dorothy shows us that you can steal your granddad's clothes and look incredible.
Fashion tip: Wear oversized shirts and jackets this winter so you can layer up to keep warm.
Baseball Jacket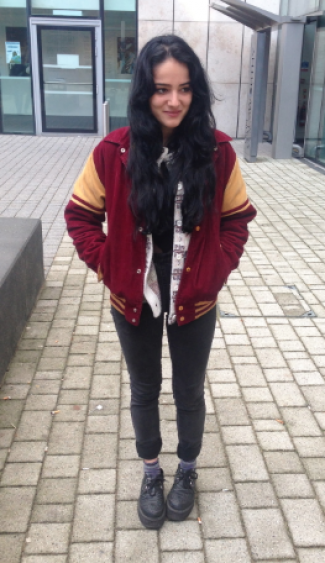 Name: Sofia
Age: 18
First-year journalism and creative writing student
Jacket: Pifebo – Vintage store in Rome
Cardigan: Vintage
Jeans: Topshop
Socks: Topshop
Brothel creepers: Underground
We've seen them in all the American high school movies and now it's our turn to wear them as baseball jackets are back. "It's all about the Pink Ladies and being in the cool gang!" said Vogue Fashion Writer Chioma Nnadi on baseball jackets.
Sofia shows that sportswear can be fashionable. Baseball jackets can also be paired with skirts and dresses if you aren't a fan of jeans and creepers and want to create an elegant sports look.
Fashion tip: If your outfit feels a bit plain, add colourful socks to give more colour to an outfit.
Transitional season essential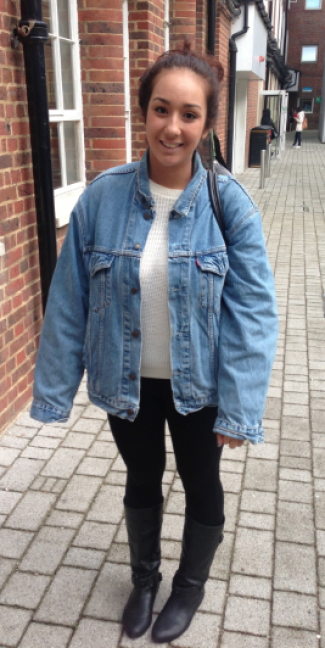 Name: Linda Brindley
Age: 21
Second-year business economics student
Jumper: boohoo.com
Jacket: Urban Outfitters
Leggings: Primark
Like Dorothy, Linda shows us that wearing oversized clothing looks good and is in style. A denim jacket is a season transitional essential. The weather has been so up and down recently so a denim jacket is perfect, it can be styled with anything – dresses, t-shirts or as seen here, a jumper.
A denim jacket can easily be layered up too, it is such an effortless look to put together yet it looks so trendy whatever the season.
Fashion tip: Add some chunky jewellery to a plain jumper to stand out from the crowd.