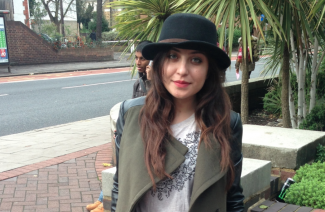 KU is full of inspirational students with a range of styles. Here we show you the top four students we found at Kingston whose styles we felt inspired by this week.
Lovely in Lilac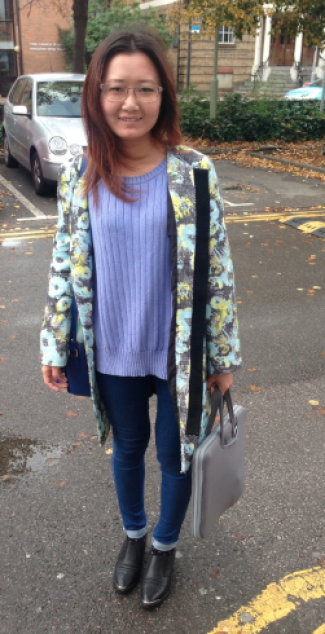 Name: Theresa
Age: 25
Third-year fashion student
Jacket – COS
Jumper – Topshop
Jeans – Topshop
Boots – Topshop
Say goodbye to Winter blues and dress bright this season. Theresa has incorperated feminine shades of lilac, yellow and baby blue into her outfit creating a fresh look.
Wearing brighter colours can also brighten your mood which we need now the days have got darker, colder and wetter.
Fashion tip: Black boots are a must have item, they match any outfit and are perfect for any season.
Autumn colours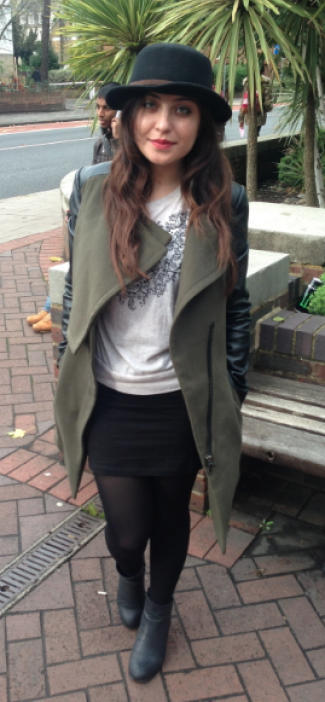 Name: Elaha Walizadeh
Age: 20
Second-year biomedical science student
Boots: Dorothy Perkins
Skirt: H&M
Top: Internacionale
Coat: eBay
Khaki is your typical Autumn colour therefore will never go out of trend. Buy khaki clothing and you will have an item that will never go out of trend as it is a great investment colour.
Elaha has shown us how to boost the dark colours of black and khaki by wearing a red lip.
Hats are popular street style item. Wearing a hat with an outfit gives you an extra bit of edge.
Fashion tip: Try eBay for bargains and designer duplicates.
Dresses with Converse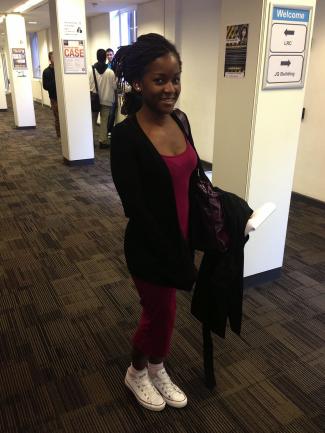 Name: Tas
Age: 21
Second-year English language and communications with creative writing student
Dress: ASOS
Cardigan: New Look
Converse: Bank
Bag: John Lewis
Coat (in hand): Calvin Klein
As Demi Lovato once said "Who said I can't wear my Converse with my dress?" Converse with dresses allows you to remain elegant but stay comfortable and as midi dresses are on trend at the moment, this is the perfect pairing.
A midi dress is the perfect day-to-night trend, it can be worn at any occasion with just a change of footwear.
Fashion tip: A plain midi gives you a chance to experiment. Try adding a belt, scarf or jewellery to the outfit.
Vintage Style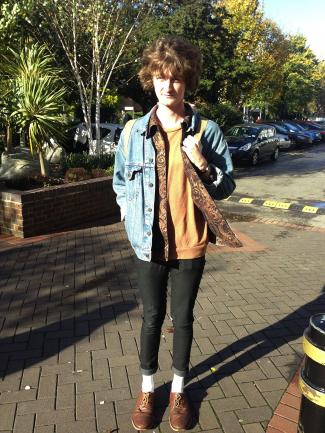 Name: Matt Congdon
Age: 18
First-year English literature student
Denim jacket: Levi
Brown jacket (underneath): Oxfam
Jeans: Topman
Shoes: Vintage
As mentioned in last weeks Street Style: Spotted On Campus denim is perfect for Autumn as it is easy to layer and Matt shows this perfectly here. Printed shirts or jackets are a popular vintage trend and perfect to layer up with this season.
Matt's brown jacket from Oxfam is a perfect statement piece as it shows up against the subtle brown colours of the outfit. Checking out local charity shops is a great way to grab a bargain and also find something different to everybody else around campus.
Fashion tip: Layering denim with shirts and jumpers is a look both men and women can pull off.