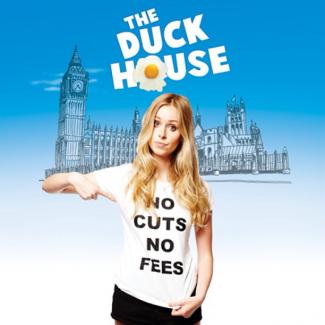 Diana Vickers is discussing the leading man of her dreams, more specifically, Hollywood heart throb Leonardo DiCaprio.
"I think it would be Leo because honestly, he is not just drop-dead gorgeous, he is just literally one of the best actors ever," she gushes, before laughing at the memory of being so star-struck that she nearly fainted when she met him.
Despite making it through to the semi-finals of The X Factor in 2008, Diana has not continued to watch the show. "I kind of have been having a little bit of a looksee," she admits. "But I have not got into it."
Indeed, it seems she has well and truly moved on from her X Factor days. "You get into habits when you are younger and then you change," she says, recalling when she used to perform barefoot as a contestant on the popular Saturday night programme.
Moved on from X Factor
"I was into that whole boho thing and I was nervous about falling over with my look and my style but now I have a completely different style and what I do on stage is completely different. I dance like a crazy person and I didn't do that back then," she says with a laugh.
Diana's style is not the only thing that has changed slightly. Her taste in music has also moved on.
It is the likes of 80s' superstars Cyndi Lauper, Madonna and Blondie who she counts as her influences for her second record, Music To Make Boys Cry. "Then you have people like Kylie," she adds. "Who is a little bit of a pop genius. She really inspires me a lot."
There is one other, perhaps surprising, female who has influenced her new album. "I love the story of Cinderella and I wrote a song about her as it is my favourite fairy tale," she says, adding that if she goes to see a Christmas pantomime this year, it will most likely be that one.
Acting is main priority
"I love pantos," she says before informing me of her affection for Christmas songs by bursting into a spontaneous rendition of Let It Snow.
The British star also admits to loving American legend Lionel Richie. "Bit random," she says after pausing for a moment.
Having played numerous festivals, Diana is confident of her dream line-up. "The Arctic Monkeys, The 1975 and Madonna, playing all her old school stuff."
The Beatles also make it onto the bill, but Kings of Leon would be her band of choice to headline a festival.
"They are my ultimate band that I have loved since day one," she admits. "I am obsessed with Caleb from Kings of Leon and I walked over to him once because I am madly in love with him. I used to have posters of him around my house and I would kiss them.
"He was just nattering to me for a while and he was so sweet to me. I basically cried after I spoke to him. I was pretty star-struck."
Been acting since 2009
For her latest project, a play named The Duck House, Diana's leading man takes a slightly different form. Ben Miller, one half of the comedy duo Armstrong and Miller.
"He is pretty hilarious," the singer admits of her co-star in the play, which is about the recent MPs' expenses scandal.
"I am in rehearsals today," she adds before saying that she has just lost her way backstage on her break. "It is a political comedy. It is going to the West End at the end of the month and we are currently doing a small tour so I am just rehearsing for that."
It is not the first time the 22-year-old has taken to the stage. From late 2009 she played the lead role of Little Voice in The Rise and Fall of Little Voice. The part won her the London Newcomer of the Year award at the Theatregoers' Choice Award in 2010.
She reveals that, despite releasing her new record recently, acting is definitely her priority for the time being. "I have put the album on hold for a tiny little bit until I get into the run of the play," she says.
Developing as an artist
"I would love to go back to this album and do a great tour of that," she adds. "But, I obviously want this play to be a success and I would love to go into film and to do more comedy, really get into the acting world."
When she is not busy rehearsing for her current project, her perfect day off involves relaxing with her friends and watching television.
With a nice glass of wine and lots of food too, of course.
Her debut album, Songs From The Tainted Cherry Tree, was released in 2010. She adds that she had never really written songs before.
"I think that was me developing," Diana says about the record. "I was still trying to figure out who I was as an artist; my voice was a lot different then as well.
Dreamy melodies
"I love music, I love listening to music, I love dancing to music and when you are creating a song and it is happening it is just a really great magical process," she says on her collaboration with Miranda Cooper, the woman behind many of Girls Aloud and The Wanted's hits, who helped co-write Music To Make Boys Cry.
The album, which is full of catchy choruses and dreamy melodies, echoes her earliest musical influences.
As Diana is whisked away to rehearsals, she struggles to remember whether the first record she bought was Aqua or B*witched.
Music To Make Boys Cry is out now.