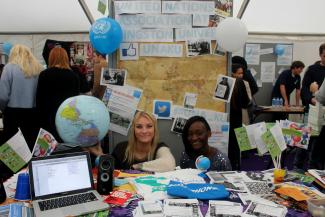 One lucky member of the United Nations Association Society at Kingston University (UNAKU) will have the chance to have afternoon tea with former UK ambassador to the United Nations, Sir Jeremey Greenstock.
The opportunity came after UNAKU won the award for most creative freshers' fair stall in all the country. The United Nations Association Youth (UNA-Youth) asked societies around the country to send them pictures of their stalls to then decide which was the best looking.
"Kingston University has a great history of being a big presence on their campus and it is creativity like this that got them there," Rich Nelmes, Head of Outreach Programmes at UNA-UK, said. "I would love to use some of their ideas nationally next year."
The afternoon tea with Sir Jeremy Greenstock is scheduled for January 28 and the lucky KU student to attend the event will be randomly selected by the society's committee.
"Imagine sitting down to afternoon tea in a luxury central London hotel with a UK ambassador to the United Nations," Nelmes said. "What would you ask someone who had represented the UK at the Security Council for five years," Mr Nelmes said.
International students
UNAKU President, Tonje Odegard, had no idea about the award when she first started to think about decorations for the stall. Odegard was inspired by the amount of international students at KU and decorated the stall with maps, flags, globes and oriental blankets.
"We were one of few stalls that had music, and we had a more interactive stall than others," Odegard said. "Generally we had a really colourful and lively stall."
Apurv Gupta, UNA-Youth President said:"I think it would be a great opportunity that would give students first hand information on a possible future career within the UN system and the real challenges a diplomat faces."
For more information join UNAKU's facebook group.