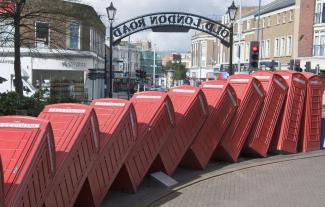 Kingston has the lowest crime rate in London, according to new statistics from the Metropolitan Police.
The borough recorded 9,593 incidents in the 12 months to September this year, with Oceana having the highest number of incidents compared with all other venues in the area. The number of crimes has now dropped by 12 per cent.
Gary Taylor, Chief Inspector of Neighbourhood Policing, said: "We are robust with clubs around security. Five venues in Kingston now have Scan Net systems: Oceana, The Hippodrome, McCluskys, The Kings Tun and Barcadia."
Scan Net is a photo ID scan system which is used to monitor anyone who goes into the five venues. It detects fake IDs and can also identify whether an individual has been banned in any venue across the UK. This new initiative was introduced in partnership with Kingstonfirst.
Another scheme that was introduced is the 'Red Card', which is given to those who misbehave in venues and are thus banned from all clubs and pubs in the area. It is an effective tool of reducing alcohol-related violence.
"Oceana has seen an 86 per cent reduction compared to the same period last year," Taylor added.
Violent incidents
The tragic memory of a man who was stabbed in Oceana in 2012, and the recent stabbing of a student in Barcadia a few weeks ago, has made fellow students anxious about the safety in the area.
KU student, Joseph Harris, 21, said: "In a year there has been two night club stabbings, my girlfriend has been burgled and another friend of mine was also burgled.
"There are countless phone thieves out and about too. But I guess in relation to the crime statement, it all depends on how the statistics stack up against other areas in London."
Law student, Alexandros Geromoschos, 27, said: "Students should stop paying attention to any kind of provocations that could get them in more trouble than just simple banter. But then who are we to prevent alcohol acting on their behalf?"
Low crime status
Communities in Tolworth, Chessington and Hook have supported local schemes by the council and have recently taken part in the poll Your Money, You decide. Hundreds of locals have bid from £2,000 to £10,000 to help prevent violence. Tackling knife crime was one of the winning bids, with £1,899 raised.
Liberal Democrat Councillor and leader of the council, Liz Green, said: "Neighbourhood policing is at the heart of a Lib Dem approach to tackling crime and the Mayor is cutting back on Safer Neighbourhood teams.
"The main difference between us and the Conservatives at the moment is that we are opposed to the police cuts that the Mayor is introducing across London, because they will put our low crime status at risk."
Metropolitan Police are pleased with the new figures and have assured the public that they will look at any venue after a serious incident, and conduct a robust investigation.