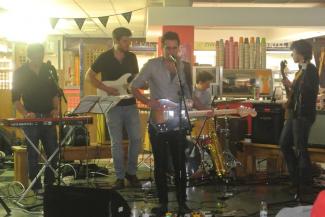 The students' union and the University's catering company Elior, have joined forces to hold the first Christmas party at Penrhyn road campus this week.
The event on Thursday, in the Food Store, will serve a Christmas menu and have live music performed by a covers band featuring alumni music students.
Alexandra Florea, 31, deputy group manager at Elior, said: "The whole idea is to bring the Christmas spirit to Kingston University.
"The aim is also to engage students further, so we're trying to work together with the students' union to provide a freshers' fair-style ball."
The covers band called The desolation angels includes recent music graduates and Elior staff who will cover a range of rock and roll songs from the 1950's to the 1960's.
Will Franden, 22, vice president of student activities at KUSU said: "The most exciting thing about the event is the opportunity for students to have a whole night of food, drink and live music for £10 pounds."
The event will be the second time the Food Store has been transformed into a party hall featuring live bands after the success of the Bonfire Bonanza event held last month.
Florea said: "The first one proved to be a success with our two residence bands and it was very welcomed by the students.
"We've been asked to do it again in collaboration with KUSU, and we really hope to have more parties in the future."