Former Guantanamo Bay detainee Moazzam Begg told Kingston Students that "racism has been sanctioned at a governmental level and built into society in this country".
Begg, who was detained in 2002 for being a suspect member of al-Qaida after he was captured by American army in Afghanistan, also claimed America's election of Donald Trump as president had fuelled more hate crimes on Muslims even in the UK.
He claimed at the 'Confronting the Rise to Racism' talk that he was beaten and tortured before being later released without charge from the detention centre at Guantanamo.
"America voted with its backside and Trump came out. The shocking thing for us is racism has become normalised and people who hold office have mainstreamed these racist views," said Begg.
Begg who is also the founder of CAGE, an independent organisation which claims to work to empower communities affected by the War on Terror, also criticised the Government's anti-extremism programme Prevent.
The policy was brought in by Prime Minister Theresa May when she was Home Secretary to stop individuals taking part in terrorism and discourage people drawn into supporting it.
The controversial policy is in charge of giving advice and support and work with different sectors such as education, healthcare providers, charities and faith groups.
Begg said that the scheme, which requires institutions such as universities to monitor possible extremism and radicalisation, "tries to uncover and un-pick people's belief systems".
He argued that the prevent policy targets people like him and not white extremist parties, and due to that it has caused radicalisation.
However the Prevent strategy review contradicts Begg's argument that it only targets Muslims, it states it is responsible for: "the NUS operating a 'No Platform' policy, which forbids any officer of the NUS sharing a platform with a 'racist' or 'fascist'.
"Organisations currently subject to the 'No Platform' policy are the British National Party, Combat 18, Hizb-ut-Tahrir, MPAC UK, and the National Front."
Begg said that when he was being held in solitary confinement that global marches against racism gave him "hope".
He said: "To oppose racism people should stand together – there is a force out there trying to divide us.
"And I see that hope rising up again. As there is the rise of the far right and hatred, so are there people who want to stand up and challenge it."
Begg shared ideas of what young people can do to help the movement and confront racism.
He said: "Write opinion pieces, Facebook posts, tweets and continue the movement. If you cannot defend the community, then support those who can."
Begg claimed that the case of Jamal al-Harith exposed Islamophobia in society. Al-Harith is a former Guantanamo prisoner who is believed to have blown himself up in Iraq in a suicide bombing last month.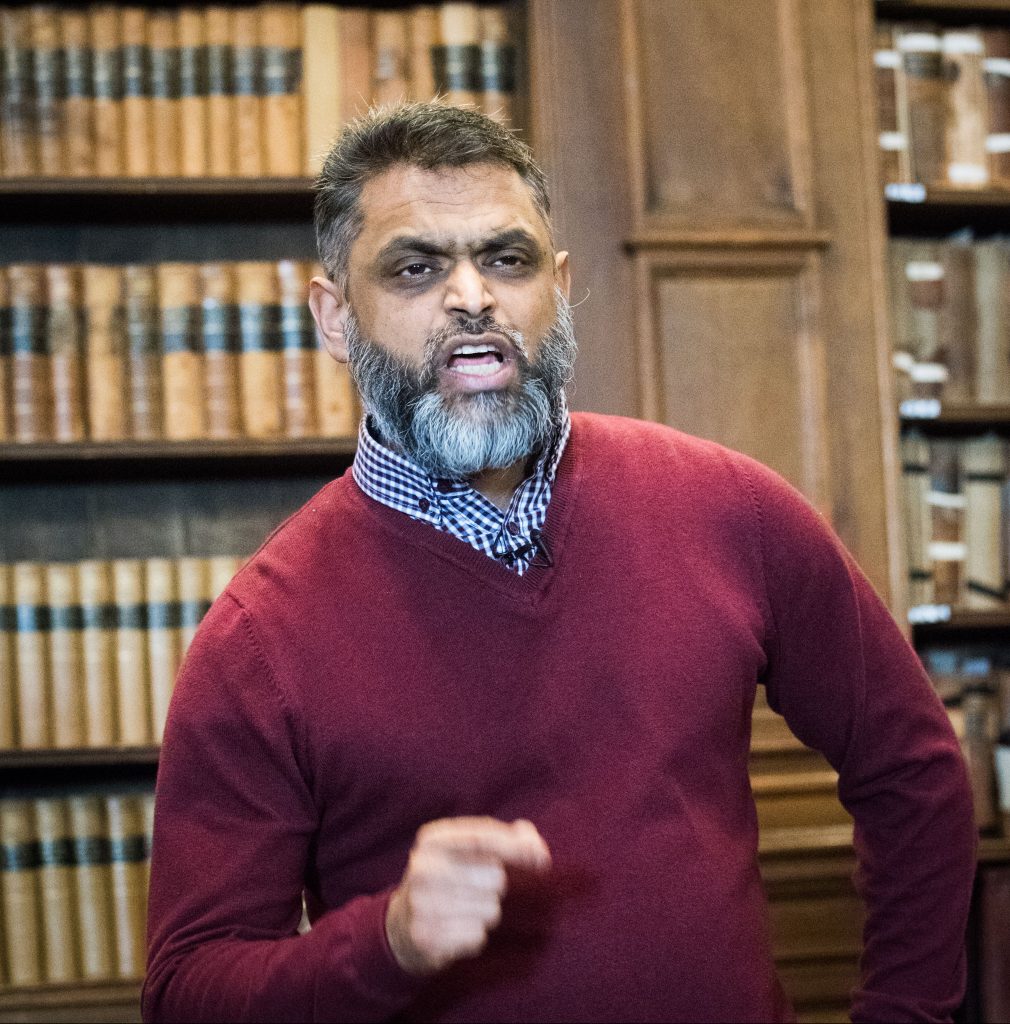 He allegedly got a £1m pay out from the British Government because prosecuting him would disclose national security information. After leaving jail it is claimed that he left the UK to go to Syria and fought with ISIS.
Begg, who refused to directly condemn al-Harith's actions, argued that the key point to look at was the time lapse between al-Harith's alleged crime and his release from Guantanamo.
He said: "A lot of time passed before he went to Syria and did what he was alleged to have done.
"If he did [blow himself up] I don't know. What I do know is what happened is being used. The media is saying that he should have never have had access to justice, and he should have remained in Guantanamo."
Begg has been classed as a "high risk" speaker meaning security must be present at all times during his meeting, students ID cards should be scanned and there should be someone on the panel opposing his views. There was no one on the panel contradicting his views during the meeting.
Feisal Daud, Secretary of Kingston Stand Up to Racism campaign, said: "We must take action. The day of the Muslim Ban I watched Theresa May hold hands with Donald Trump which was really sad.
"Hate crimes towards Muslim women wearing hijabs are high. My aunt does not leave the house, she is called horrible names like ninja, and people spit on her and try to take off her hijab."
Hamad Momin, from KU Student's Union and representative of the Society Working Group, said: "The speaker policy requires societies to submit a form in advance to allow them to attend a meeting in Kingston. They go through checks and then are categorised on how low, medium and high the risk ratings are for the speaker.
"Prevent targets Muslims only. It gives universities the right to investigate Muslim students which is Islamophobic."
In response to that a Kingston spokesperson said: "Kingston University and the Union of Kingston Students are committed to upholding freedom of speech and to providing the opportunity for stimulating academic debate on a broad range of topics and issues.
"The University works hard to ensure these discussions take place in a respectful environment that enables people from different viewpoints to have their voices heard.
"We are proud to represent a vibrant, multi-cultural student community where people from all backgrounds and beliefs can come together to share their opinions and experiences."