An ex-KU cheerleading champion is hopeful to represent Team England for the second time after her success at the 2017 World Championships.
A former exercise, nutrition and health student, Kim Gardner, 26, has been selected to be part of Team England's new development programme.
"I plan to try out for the Team England All Girl Premier level six team later on in the year with the hopes to go to the World Championships in 2019," Gardner said.
The cheerleader was part of Team England at the ICU World Championships in Orlando last April on a women's team which beat 13 other nations.
"I had always dreamed of being able to represent my country doing the sport I love but I never thought in my wildest dreams that I would be able to call myself and my teammates World Champions," she said.
Team England was made up of 24 athletes from all over the country which only trained five times together before the world competition.
Gardner added: "The team and the coaches were so inspiring and supportive, you would never have known that we were all from different teams who usually compete against each other and that's what I love about cheer."
Gardner, who is now a personal trainer, had no previous cheerleading experience before going to university apart from some gymnastics.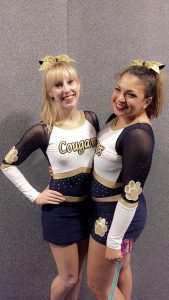 She said: "I went to the Kingston Knights (now Cougars) trial session to try out something new and never looked back. I got onto the Golds team in 2009 and trained with them all the way to graduating in 2012."
The former student joined a local all-star cheerleading squad, the Surrey Starlets, while she was in her final year at university. It enabled her to learn new skills and compete at a higher competitive level.
"I was very lucky to be given this opportunity by Coach Emma Haggis when they needed a replacement athlete at the beginning of their season."
Gardner has continued to be part of the Surrey Starlets ever since and participates in competitions across the country on her level five team 'Amethyst', which is fighting for a national champion title.