A Kingston football side rose to second place in the South Eastern 4C division thanks to a superb 7-2 victory against London School of Economics' third team at Berrylands on November 28.
[toggle title="Kingston –  7″ state="close" ]Khan
Aliu
Khan
Headley
Adjei
OG
Mikluch [/toggle]
[toggle title="London School of Economics 3rds – 2″ state="close" ]Dilieto
Stagno[/toggle]
Kingston, who were without injured captain Oscar McMillan, raced to a 2-0 lead in the opening stages when Saif Khan finished a Pranav Thapa Magar cross just three minutes into the game before Kehinde Aliu scored from the spot in the sixth minute, stunning LSE.
Kingston went into the break 4-0 up after Khan tapped in a Kelvin Adjei cross to double his tally in the 33rd minute before Joseph Headley found himself through on goal, capitalising in the final seconds of stoppage time.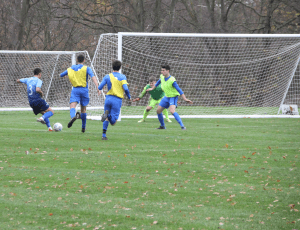 Coach Besim Ali said: "Today is a very good day in terms of sticking to our philosophy and playing the way we've been playing in training. I feel we've demonstrated that today. The score line is great, to score seven, but I think the best thing about today is the performance."
It took just two minutes of the second half for Adjei, fresh from a hat-trick in last week's cup defeat, to add the Cougars' fifth. LSE failed to clear their lines and the in-form striker punished them with a ferocious volley.
Kingston were handed a sixth in the 59th minute thanks to an own goal, after a well-worked corner before the hosts finally put the ball in the correct net with a Dan Dilieto penalty four minutes later.
There was time for two stunning goals before the game's conclusion, first a spectacular lob by Kingston's substitute Patryk Mikluch but Costa Rican Lucca Stagno's long-range volley grabbed LSE a memorable consolation.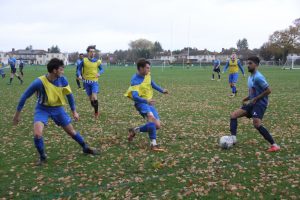 Khan said: "We're not in the cup any more and that gives us the chance to put 100 per cent into the league. The team we beat today are second in the league, we should go all the way now and win the league."
Kingston's dominating performance could have been rewarded with even more goals: Henry Awu and Fabio Tavares both came close and Headley, Adjei and Khan all missed chances to add to their tallies.
Khan, who was substituted in the second half as part of a double substitution, was unlucky not to get his hat-trick after an emphatic first half performance.
Captain Mcmillan, who watched the game from the visitors' dugout, said: "The boys played really well and I'm really pleased with the result. It came off losing to UEL so it's nice to get a result in the league."
Mcmillan's replacement Simon Salomone had a convincing performance at the back and Magar's pace was a constant threat for LSE on their left wing.
Ali said: "In terms of standout performers today, I'd have to give it equally across the whole team. The reason our system works so well is because all 11 players play their role."
Despite a tough cup extra-time cup loss against University of East London last week, Kingston stay unbeaten in the league and move above LSE's third team who next face league leaders Royal Holloway.
[tabs type="horizontal"][tabs_head][tab_title]BUCS Football 2018-2019 – South Eastern 4C Table[/tab_title][/tabs_head][tab]

[/tab][/tabs]