A Kingston University American football player was taken on to the Great Britain national team in June, after only two years of playing the sport.
Gabriel Quartey, 20, was invited to trials after playing for his team, London Blitz, and has since then been to several camps, but has yet to play a game.
"I am proud of myself but I feel like I'm quite good at it and I train so hard so I thought that there was no way I wouldn't make the team," the accounting and finance student said.
Quartey has only played American football for two years and started playing after a man approached him at his gym and asked if he wanted to try the sport.
"I didn't know they had teams around here, so I came to training and talked to the coaches and that's when it started," Quartey said.
"I thought it would be fun and I had watched it before. I thought that it could be me, these guys are doing it, so can I.",
Quartey started out at a local team, Kent Exiles, but moved on to London Blitz this summer, a team with a good reputation, with several players and coaches from the national team.
For Kingston, Quartey plays running back, an attacking position, and line backer, a defending position, but for London Blitz and the national team he sticks to playing only running back.
"I think because I'm fast and strong and watch a lot of videos on YouTube, trying to learn," Quartey said when asked why he has become so good so quickly.
"I try to get better and I do a lot of running, so when I'm playing I'm much stronger and faster than many of the others."
"I'm a fast learner and I just make sure I can do what the others are doing and just train and make sure I'm better than anyone else."
Before joining American football Quartey played basketball for eight years and even though he still plays every now and then, he admits he prefers American football.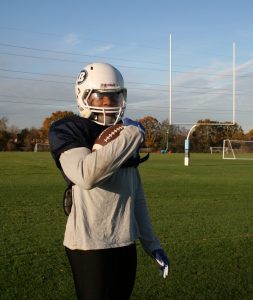 "I'm more about for it and enjoy it more," he said. "I can train better for American football than basketball."
Quartey was one out of seven running backs that made the team from the trials and he said he believes approximately 15 tried out.
There has been no games for the national team since he started, but there is an upcoming tournament in 2018 where he hopes to play.
Kingston University's American football president Aaron Rafferty said: "American football is a team sport and in order to be successful a team needs 11 hard working, dedicated and talented players on the field."
"It is important to utilise the talent in your squad and then play to your team's strengths. Gabriel brings explosive pace and power to Kingston's running game, he is one of our great offensive assets."
The presidents said that Quartey's running abilities help the rest of the offence by opening up for passes while he in defence has an explosiveness that helps to pressure the opposition. He added that Quartey is a "great asset" to the team and a "valuable player".
With a busy schedule where he trains American football up to three times a week and work out at the gym six times a week, in addition to having a part time job – there is no doubt he is busy.
Even though he did not deny that it can get hectic he said he makes sure to do all his university work during the day to make time for all the training he does in the evenings.