Students at Knights Park campus organised an 'indoor street party' to celebrate the official launch of the Kingston School of Art last Tuesday.
The event celebrated the Faculty of Arts, Design and Architecture's (FADA) return to its original 150-year-old name, before it became part of Kingston University.
"FADA has changed its name to Kingston School of Art to celebrate its art school ethos and its heritage as one of the country's leading providers of art and design education. We're still a faculty within Kingston University but with a new name and new look,"  a spokesperson for the Kingston School of Art said.
The decision to go back to the historical name has sparked controversy as some students think it will divide Knights Park from the rest of Kingston University.
"It will create division because we are completely different from the other courses and I think that separation is not necessarily a bad thing because our courses have become more like a family," third-year graphic design student James John said.
Knights Park students are very proud and supportive of the change which they feel represents a sign of respect, tradition and history.
"It is better to have an art school rather than just a department, FADA was just a bit insulting because it used to be an art school before so it should keep its historic name," John added.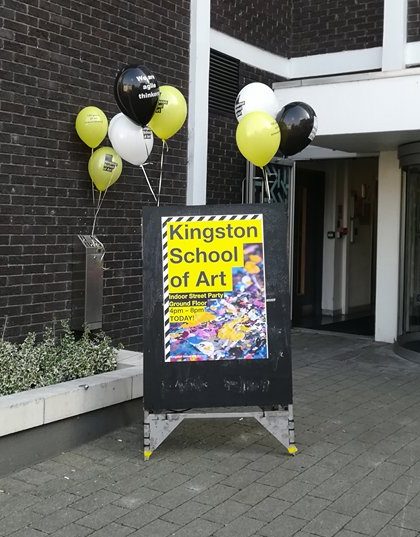 "The name feels more suited to our identity," second-year fine art student Olive Ashford said. "It is nice to stay connected to the University but also the art school is a bit of a bubble, it is quite separate to the rest and it feels more like a community."
Former Kingston Mayor and KU graduate, councillor Roy Arora unveiled a commemorative plaque that officially changed the name.
"It was a privilege to be back at Kingston University, my alma mater, to unveil the plaque," he said. "As both a former Mayor of Kingston and student at Kingston University, I have incredibly fond memories of meeting the students, teachers and support team which have made this school the success it is today. I welcome the change back to the title of Kingston School of Art and I look forward to seeing it go from strength to strength."
Watch Councillor Roy Arora unveiling the plaque
The event was an evening of live music and art performed by students. A cinema room was also set up showing the work of BA filmmaking students.
Participants had the opportunity to get caricatures made by one of the artists present while exploring some student projects on display.