A KU bride died in a plane shot down in Iran because she chose to postpone her flight to collect her wedding photos.
MSc student Niloufar Ebrahim, 34, and her husband, 35-year-old Saeed Tahmasebi Khademasadi, only caught the doomed PS752 flight after postponing their return to London to pick up the photos.
Ebrahim's sister Navaz broke down in tears when she paid tribute to her "caring" older sister who tragically died on the Ukrainian International Airline flight accidentally shot down by an Iranian military missile amid tensions between the US and Iran.
She said: "Niloufar was the sweetest heart, sister and friend I could ever ask for. She was very caring.
"Everyone around her really loved her. She always cared for others more than caring for herself. She had a beautiful personality."
Ebrahim had completed her MSc in occupational and business psychology at KU in September and was due to graduate on January 17.
Her cousin Azad Ebrahim and his wife Elham attended the ceremony at the Rose Theatre along with some of her friends and collected her degree on behalf of the family.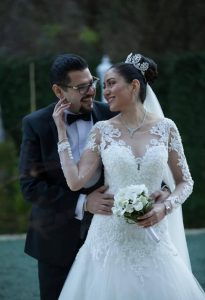 Ebrahim and Khademasadi had married each other in a civil ceremony in London in May 2019 but then flew to Lahijan, north of Tehran, where the groom was born, for a traditional wedding ceremony two weeks before the incident on January 8 in Tehran.
The couple, who lived in Chiswick, met and instantly hit it off when a mutual friend introduced them to each other in Iran two years ago.
Navaz, who lives in Dallas, had not been able to see her sister for five-and-a-half years because of travel restrictions but said that she spoke to Ebrahim minutes before the Boeing 737 crashed.
"Saeed and Niloufar were sitting in the airplane, and they called us, and we had just a normal conversation. 'Love you, we're about to depart. We'll let you know when we get there'. We said 'bye'."
The sister of the KU student relived the moment she found out all 176 passengers on board the flight had died.
"I was checking my Facebook, and I saw this news that a Ukrainian Airplane had crashed in Tehran. So, I got very worried, but I didn't know what airline they were travelling with, so I guess I didn't want to take it seriously."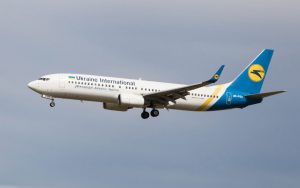 Navaz became anxious and called her mother who lives in Iran when news reports showed that the plane that had crashed had departed at the same time as her sister's and was now listed as "delayed".
"I woke her up, and I asked her 'Can you tell me which airline Niloufar and Saeed were flying on?' and she got worried and said, 'What happened?' I repeated my question, 'Tell me which airline' and as soon as she said the Ukrainian Airline, I was speechless. I was just shaking.
"I didn't want to believe that it was the flight. I asked her to read the flight number, and she said '752', and we were all screaming."
Talking about her sister's time at KU, she said: "Niloufar really loved studying at Kingston University."
Her proud younger sister said she could see "so much joy" in a picture of Niloufar holding her thesis which she finished in September.
Ebrahim's dissertation supervisor Taslim Tharani said she was "a warm, fun and kind student with a beautiful smile".
She said: "Niloufar was hard-working, humble, polite, curious and smart, and enjoyed socialising with her course mates throughout her time at the University.
"She had been keen to make the most of her university experience and would often sit at the front of the class, showing a particular interest in the contemporary aspects of the course."
While studying, she had been volunteering at the charity Voluntary Service Overseas (VSO), which aims to combat global poverty, according to her LinkedIn.
Navaz said that her last memory of her sister was "very beautiful".
The sisters from Tehran had celebrated Navaz's birthday in 2014 on the day Navaz arrived late from a delayed flight.
Sobbing, she said: "Without me knowing, Niloufar held a surprise birthday party for me. She picked me up from [Tehran's] airport, and when I came back home, my friends were all there even though it was really late.
"They were all there to celebrate my birthday, and she had put a lot of gifts all over my bed. So that's the beautiful memory I remember of her."
Navaz added that the newlywed couple were "so in love" and were always smiling when they were together.
Samira Safari, a good friend of the groom, said: "He was an amazing person, humble and he had a great heart. He was helping and supporting everyone during his studies, and he always had a smile on his face.
"I heard Niloufar was the same as him."
Before beginning his PhD at Imperial College, Khademasadi graduated in civil engineering from the University of Greenwich in 2007 and completed an MSc in structural engineering at the University of Surrey in 2012.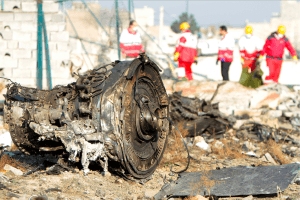 Iran's top diplomat acknowledged that Iranians "were lied to" for days after the Islamic Republic admitted to shooting down the passenger plane.
The admission came as new surveillance footage supposedly showed two surface-to-air missiles shred the plane 20 seconds apart.
The country's judiciary spokesman Gholamhossein Esmaili said investigations into the incident were continuing but provided no details.
In a statement, Iran said that because of heightened tensions with the US, Iran's military "was at its highest level of readiness.
"In such a condition, because of human error and in an unintentional way, the flight was hit."
The country had initially denied reports that one of its missiles had brought down the plane but backtracked after Western intelligence officials said evidence pointed to Iranian involvement.
Navaz said: "I think we at least know what happened and wanted responsibility. We have some closure, and now we can start to think about how to accept it and grieve our loved ones."
The University will be arranging a special memorial service for family and friends to celebrate Ebrahim's life and achievements at a later date.