Despite a loss Kingston University women's lacrosse got their best result of the season so far, and three players scored their first goals ever, when Chichester visited KU ground Tolworth November 15.
Jessica Chewter scored her first goal for the Cougars in a game that resulted in a 17-7 win for the visitors. "It felt amazing. I haven't played in attack for that long so to score my first goal was incredible and I felt very proud of myself," she said. "I am very happy."
Chichester got off to the best start and scored two goals within the first two minutes. Kingston controlled the game before Chichester quickly fought back and went off to a 3-0 lead and then 4-0 after five minutes.
Kingston's substitutes cheered on their teammates and sang "Kingston lacrosse is wonderful" from the sideline. That seemed to bring energy to the Cougars and captain Sasha Boyko slipped in their first goal, sending the score to  4-1.
Boyko was proud of her team. "They [Chichester] are a hard team to play, they are really good and I think we did amazing," she said.
The KU women showed high energy and teamwork. After 12 minutes they nearly hit another goal but missed. Chichester scored straight after, making it 5-1.
In the first minutes of the second quarter, the visitors scored three more goals. After that Kingston was in possession of the ball for the most part of the second quarter. When Chewter scored KU's second goal at the end of second quarter, there were energetic cheers both on and off the field and the Cougars jumped and sang.
The Cougars defended well, but when it got to halftime the visitors had a 10-2 lead. After halftime, both teams got back on the field with new energy and action-filled minutes followed.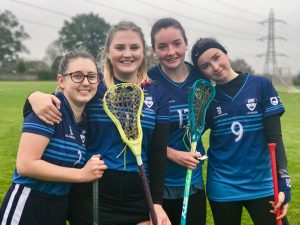 It was a game of firsts. Elizabeth Jarratt put in her first ever allowed goal, which made the score 10-3, before Chichester hit back. The visitors got back in control, making it 13-3 within few minutes. Then Jarratt scored Kingston's fourth goal a second before the whistle blew and 45 minutes was played.
"I've scored seven goals for Kingston lacrosse before but this is the only one that has been allowed. The others have been hitting too violently or from a wrong angle and rubbish like that, so yeah, it was good to finally have one," Jarratt said.
Chichester kicked off the last quarter by scoring their 14th goal before KU's Kelly Conklin also scored her first goal and gave Kingston their fifth of the game. Two minutes later Conklin hit again, making the score 14-6. The Cougars were on fire and fought hard, but Chichester took control and put in three rapid goals in a row.
The KU women seemed tired, but then Jarratt grabbed the ball, quickly passed it to Julia Wyrenbak who sent it to Boyko and it was 17-7.
"I think it went very well. It was one of our best games, you can see how we are improving after every single game," Boyko said.
They went off the field still singing "Kingston lacrosse is wonderful."