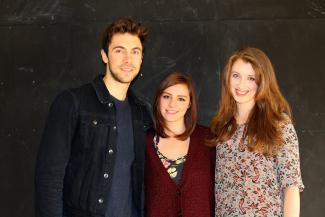 The Daily Fail: The Musical! is the satirical comedy brainchild of The Untold Theatre Company based on the Leveson inquiry.
It tells the story of London Clinton and Dim Trashtrashian, two young girls, obsessed with celebrity culture, who will do anything to be famous themselves. Fortunately for them, their very own fairy godmother is waiting to give them a helping hand to achieve the celebrity status they crave.
After achieving the attention they wished for, London and Dim have to learn how to navigate their lives while keeping the media's eyes on themselves and dealing with the stories printed about them in the press.
The show opens with a strong number that instantly gets your attention and from the word go it was obvious the entire cast were giving the performance their all.
Sam Haughton stood out in particular as the camp Rupert Murdoch fairy godmother while Kate Hume and Charlotte Mitchell, who is a third-year drama student at Kingston, also shone in their roles as London Clinton and Dim Trashtrashian.
Fiona O'Malley, who completed her MA in journalism at Kingston University, has delivered a humorous script for the cast to work with that is clever in the way it deals with the concept of the phone hacking scandal. It kept the audience laughing throughout.
Rachel Kelly's choreography was also brilliant; however, you could not help but feel that at times the cast were restricted by the small stage they were performing on.
Despite this, the cast worked well with the space they had and the simplistic set was effective.
The Daily Fail: The Musical! is running till October 20 at Waterloo East Theatre.