A former Kingston University fashion student will launch her Autumn/Winter 18 collection in Rome later this month.
KU graduate Sadie Clayton has been sponsored by the British Ambassador to exhibit at AltaRoma fashion week from January 25 until January 28 as part of the government-led 'Great Britain' campaign for international promotion.
She said: "I feel very lucky and excited for this new journey. I've shown an exhibition as part of AltaRoma before but it's exciting to know that this time I'm doing a solo catwalk show."
The 'Great Britain' campaign showcases the best of British fashion, music, design and film with an aim to inspire the rest of the world.
Clayton graduated from Kingston University in 2013 and launched her luxury sculptural womenswear label in 2015.
The designer, who is recognised for her signature copper fabric, has designed for Gigi Hadid, Ellie Goulding and Caryn Franklin since leaving Kingston University.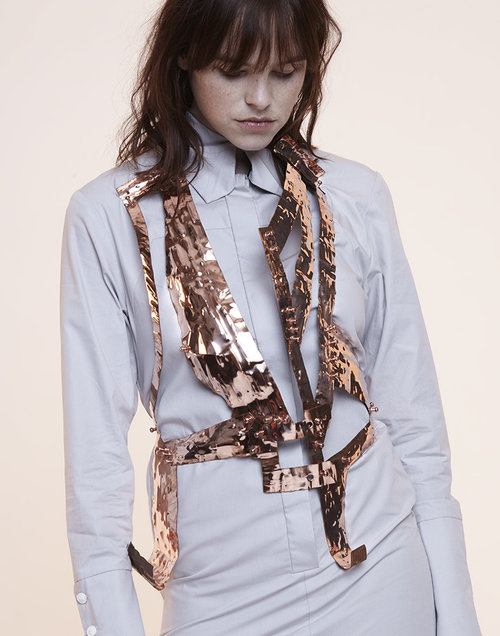 She said: "I can't believe it's been nearly five years since I graduated. I wish I could go back and do it all over again.
"To be successful in fashion you need to be innovative and expressive. Kingston certainly allowed me to explore these two elements and has encouraged me to develop all of the experience of being a student, including assisting at London Fashion Week and securing internships," Yorkshire-born Clayton added.
She says that she creates art for the human form and enjoys seeing people's expressions when they walk into the "Sadie Clayton world".
Elinor Renfrew, Head of the Department of Fashion at KU, said: "Sadie from the outset was a dedicated and driven student who used the 3D workshops extensively with her sculptured copper work that became her signature.
"She is an incredible PR for herself, appearing on Instagram continually , and she deserves to show at London Fashion Week with her unique perspective, style and talent," she added.
Clayton regularly presents collections, using static models, at London Fashion Week and was sponsored by a mannequin company last season to showcase her collection.