As part of a widespread strike over a pay dispute, union members, Kingston University staff and students picketed outside KU campuses on Thursday.
The strike over the one per cent pay rise offered by university employers was the first ever co-ordinated action by higher education unions.
"It is insulting. It is a pay cut effectively, because inflation is about three per cent, so it doesn`t even keep up with the inflation. We`re being asked to work more for less pay," said senior lecturer in politics and UCU Membership Secretary Dr Simon Choat.
Staff paid less than living wage
UCU and UNISON who were present at the strike have over 700 KU members according to union sources.
Over 4,000 staff in universities across the country are currently paid less than the living wage (£7.45 per day) according to Unison, while more than half of the country's vice-chancellors were paid over £242,000 a year.
"I feel that the working class in this country as a whole is getting really, really, brutally attacked on every front," third year politics and international relations student Francesca Manning said.
"If someone`s fighting back against this government I`m going to bloody well support them. I`m so pleased that someone is fighting back because the level of fight back that is coming at the moment nowhere near matches the level of attacks."
The strike was the most widespread disruption UK universities have experienced for years as staff representing all employees from academics to cleaners walked out over the pay dispute.
Sarah Bowness, Kingston University Unison Branch Treasurer said: "If the MPs are going to try to increase their pay by a whopping percentage, why can't we have more than one per cent?"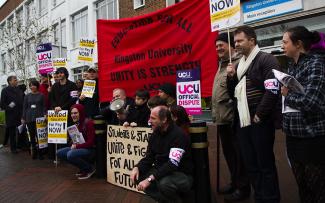 Disruption necessary for the future of the university
Mark Martin, principal lecturer at the Faculty of Health Social Care and Education, was one the few staff members who braved the weather to picket at Kingston Hill campus.
He said that he was aware that some people would not look favourably upon strike action and its disruptive effect on students study time but feels that it is important for the future of the University.
"I appreciate that some people will say, that if somebody does not lecture today that may be injurious, but in the longer run if the pay is driven down, as it has been successively over the years, then the quality of people attracted into the work will likely decline.
"That will have, on a long term basis, a much bigger impact on students, not necessarily today's students but in the long term.
"If the pay drops further then young academics, who are the future, will leave because they will say they can earn a better living elsewhere. Those that are here will move on and there will be a shortage of quality staff in the years to come," said Mr Martin.
Senior lecturer in the KU Business School, Enda Hannon, who was also picketing at Kingston Hill, had an optimistic view believing they have a strong case for a higher pay increase.
University in good financial health
Mr Hannon said: "The key message from the union nationally is that universities have been doing well, they've got surpluses, some of them very healthy reserves, so it's about treating your staff well, paying them well and rewarding them to reflect what they do.
"The University seems to be in good financial health at the moment so it's all about balance. The Vice-Chancellors pay has been increasing quite a lot and the operational staffs have been held very low so there is a strong argument for increasing it."
Julius Wells, acting chairman of Kingston University UCU branch and senior lecturer in economics said: "Students very well may wonder where their £9000 is going."