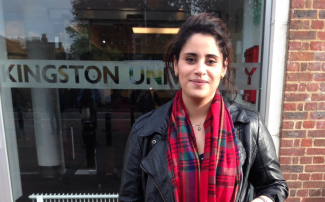 As we approach winter, more of you are wrapping up in hats, scarves and coats to keep warm. This doesn't mean you have to cover up your outfit. Look at these trendy four and see how you can wrap up but also stay fashionable.
Brothel Creepers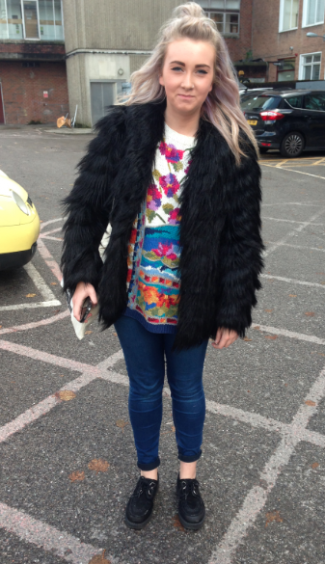 Name: Jess Lloyd
Age: 18
First-year fashion student
Jacket: Charity shop
Jumper: Charity shop
Jeans: Primark
Creepers: Online
The brothel creepers trend went crazy two years ago but still remains strong and a huge fashion statement. Fashionable as well as comfortable, they can easily be paired with any outfit, even dresses. So go on, be daring!
Wearing a dark coat this winter can easily make an outfit dull but try what Jess has done here. Wear a dark coloured coat with a bright statement piece underneath which can brighten anyones mood on a rainy November morning.
Fashion tip: Can't afford designer prices? Try Primark or charity shops for bargains. As Jess shows us, you can still look fabulous wherever you clothes are from. You wouldn't have guessed this outfit was mainly from Primark and charity shops would you?
Designer Duplicates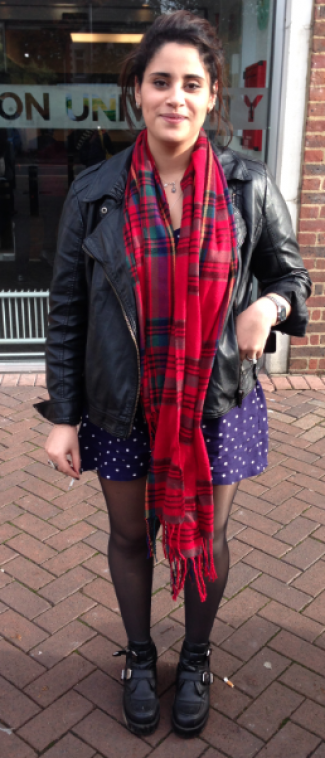 Name: Nawel Zaibi
Age: 19
First-year biomedical science
Playsuit: Primark
Scarf: Primark
Boots: Primark
Boots: Gift
Look around and you will notice that these Jeffrey Campbell Coltrane Cutout boots are everywhere. But don't be fooled; not all of them are from Jeffrey Campbell, so if you want a pair you don't have to spend an arm and a leg.
With some online browsing you can easily pick up duplicates of your favourite designer pieces. Etsy, eBay and Amazon are great places to start!
By adding a leather jacket and tartan scarf to her outfit, Nawel has created a rock chic edge whilst also keeping to the current tartan trend a lot of you have been sporting around Kingston.
Fashion tip: Wear a bright patterned scarf to emphasise any outfit.
Oversized blazer

Name: Hope Hudson
Age: 24
MA Fashion student
Coat: Topshop
Jumper: Whistles
Dress: Next
Shoes: & Other Stories
You may just get out of bed and head to university without making an effort and think, 'What's the point? It's only a lecture', but if you make just a little bit of effort it could brighten your mood for the rest of the day. It also could be worth it because we could spot you walking down the street, like Hope, for the street style page. Stand out from the crowd!
Oversized blazers and coats are popular this winter and a great item to wear if you are looking to pull off the boyfriend trend. You can pair these jackets with a dainty little black dress, like Hope, and wedges to copy the boyfriend look elegantly.
Fashion tip: Keep the rest of the outfit simple if you are wearing something extravagant like these & Other Stories wedges.
Autumn Colours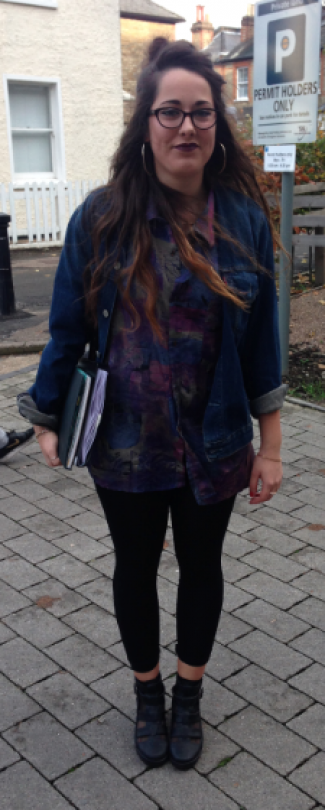 Name: Chloe Round
Age: 19
First-year fashion design student
Silk shirt: Christian Dior
Denim Jacket: Levi
Boots: Topshop
With her plum lipstick and matching shades on her Christian Dior silk shirt, Chloe looks perfect for autumn. She also keeps up with the autumn trend by wearing cut out boots which are a definite must have on your Christmas wish list!
Almost every week we spot a student on the street style post wearing a denim jacket with their outfit. If you don't own one maybe it's time to invest in one if you want to follow the crowd?
Fashion tip: Worried your feet will get cold in cut out boots? Don't be afraid to add socks or tights with them to stay warm and look great.
Wear your best outfit to university next week and you could see yourself featured here.