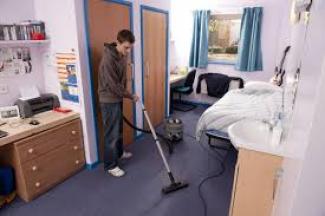 Students will leave university with vital life skills they did not have before, such as surviving without their parents, learning how to budget, and mastering playing pub games, according to new research.
Having to cook their own meals was another massive eye-opener for students, with 78 per cent of them unable to boil an egg before university, research has shown.
Jehona Jashari, 21, a KU law student, said: "I was never asked to do anything when I lived at home, so moving to University and living with people was a real challenge for me.
"One of the girls I lived with told me to look at YouTube videos to learn how to clean and tidy up properly."
Settling in
During their first few months of university life, research found that new students called their parents up to 20 times a month just to ask for advice on how to do things.
The findings have also shown that it takes about four to five months for new students to settle properly in halls, and some even cry on the first night.
Second-year creative music technology student, Espen Olsen, 20, said: "I arrived at halls, put down the luggage and sat on the bed. It started to sink in that I was going to be there for a year, then I started to cry.
"The yellow walls didn't help either."
Set your priorities straight
The survey, conducted by Disney, quizzed 1,652 students and revealed that budgeting and prioritising was the number one key skill students should have.
"I learnt I had to organise money for meals instead of alcohol," said Emily Hughes, 20, a third-year English literature student.
Two thirds of students said moving away from home really opened their eyes, and nearly half were shocked by how little they knew.
A spokeswoman from Disney said: "Learning day-to-day basics such as budgeting and using a washing machine – along with finding out who you are and want to become – is integral to the whole university experience.
"There is definitely a valuable alternative curriculum at university, with some of it more fun than others."