Kingston University is the least expensive canteen in London, with a hot meal costing £4.50.
University of East London, Goldsmiths University, South Bank University and the University of West London were all tied with Kingston for the price of a meal on campus.
The River researched the prices of 20 university canteens across London, displayed in the table, with prices ranging from £4.50 to £7.
The price for a hot meal in most London universities was 50 pence more than Kingston with an average of £5.
Third-year Creative Writing and English Literature student Rochelle McIntosh said: "I thought Kingston was so expensive for food so this really shocks me."
Some universities offer a discount to their students with a card which decreases the price of food in the canteens or dining areas on campus.
Royal Holloway is the most expensive but offers a discount scheme, with prices for hot meals halving from £7 to £3.50 with a College Card.
Third-year Criminology student Charlie Bell believes Kingston should have a similar scheme.
She said: "A loyalty card for students would be great especially as our university is open and anyone can walk in to buy lunch."
Bigger portions?
While Kingston is the cheapest in London, the portions served may not be the best value for money. A number of students have complained that the size of the meals served should be bigger for what they pay.
"When I get pasta in the canteen they hardly fill a third of the box," said Liam Abraham, a third-year graphic design student. "I would expect a bigger portion for £4.50."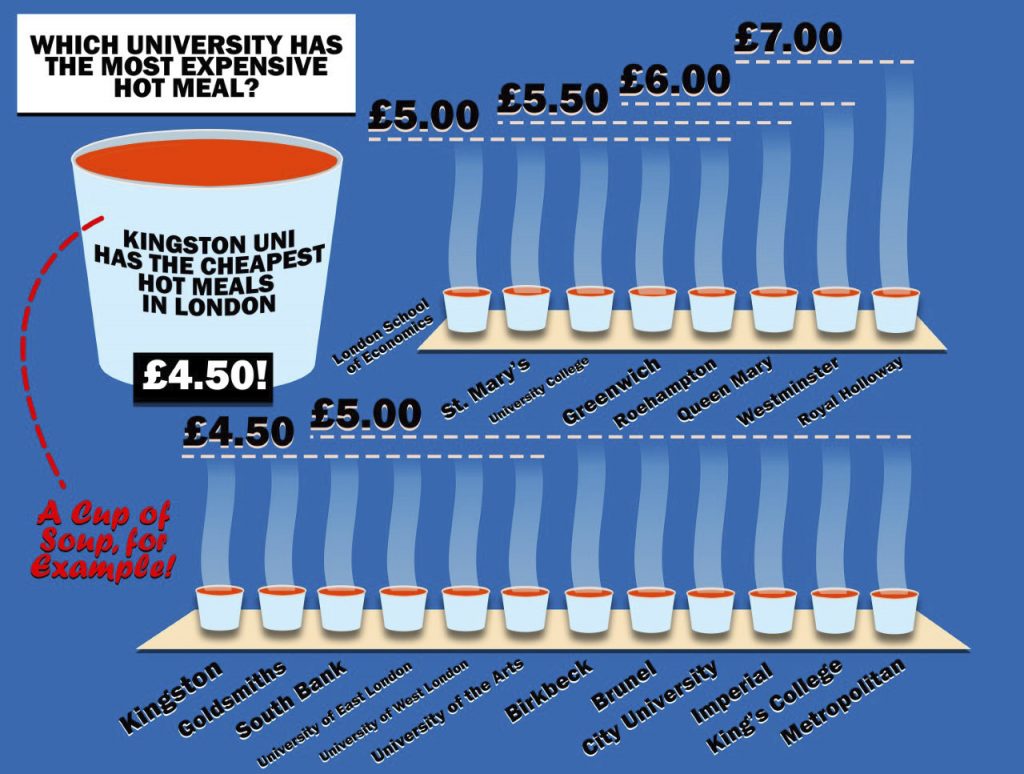 Despite the demand for larger servings, a recent refurbishment at the Penrhyn Road cafeteria has given Elior, the Kingston University catering provider, the opportunity to serve a wider variety of products.
Canteen manager Ana Zeferino said she was thrilled with the recent refurbishment as students now have the option to buy hot snacks and salad alongside the new pizza bar.
Although the price was the main area of concern, some students have also complained about the new selection of food available in the canteen.
Politics student Emma Campbell said: "So many of the food options are catered towards people that like spicy food.
"I think there should be plainer options for people that don't want spicy food.
"There needs to be more variety with the flavours on offer."
Rising costs
In 2016, Kingston University signed a five-year catering contract for £25m with Elior aiming to improve "cost, sustainability, innovation, staffing and food quality and variety," said a Kingston University spokesperson.
Many students feel that despite the effort put into improving catering services on campus, it is often better and more cost-effective to go to one of the outlets nearby.
However, this could have an effect in the future as if more students eat elsewhere, prices would rise to maintain income.
Zeferino said some food prices at Kingston have risen this year but are updated annually.