The Brit Awards are celebrating 40 years of being on TV, and we have seen some legendary moments in music over the past four decades.
From controversial rants to awful singing, the Brit Awards have had it all. Here are just some of the iconic moments over 40 years.
8. Russell Brand hosts the awards (2007)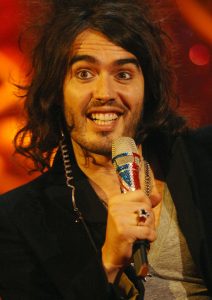 The always controversial, wild-haired comedian hosted the first-ever live Brit Awards since 1989 and caused a lot of complaints in the process. His swearing, extremely vulgar comments and jokes about Robbie Williams' stint in rehab racked up 300 complaints to Ofcom. 
Despite this, Brand went on to host the MTV music awards the following year but unbelievably, has not been asked to host the Brits again.
 7. Stormzy's political performance (2018)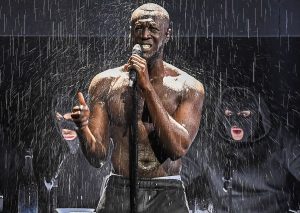 This year saw the grime phenomenon scoop up awards for Best British Male and Album of the Year following the release of 2017's Gang Signs and Prayers.
Along with these iconic feats, Stormzy also performed his hit single Big For Your Boots before freestyling a song about Grenfell, which claimed the lives of 71 just six months before his performance.
He called out Theresa May's lack of sympathy and money and lyrics included: "We should burn your house down and see if you can manage this." 
 6. Arctic Monkeys speech (2014)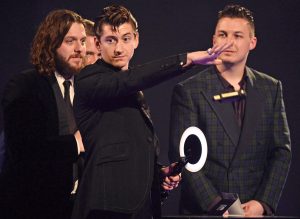 After winning an award for Best British Group, frontman Alex Turner recited a speech about rock 'n' roll that was similar to a poem.
He came across quite smug and cringe-worthy as viewers questioned if he was high. The looks on the rest of the bands' faces were hilarious as they giggled and looked at the floor throughout the speech.
Perhaps most iconically, Turner ended the speech by saying "invoice me for the mic", before dropping it.
5. Adele flipping off the camera (2012) 
In 2011, 22-year-old Adele debuted her smash-hit Someone Like You at the Brit Awards.
A year later, she scooped up Album of the Year but was cut off mid-speech by host James Corden to let Blur perform their set.
Adele was rightly furious as this was her big moment, so she stuck her middle finger up to the audience. She later apologised and insisted this gesture was for the producers, and not her fans.
 4. Sam Fox and Mick Fleetwood host (1989)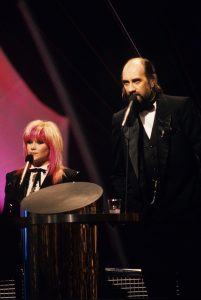 The oldest entry in our list, and one of the most cringe-worthy ones, saw model Sam Fox and drummer Mick Fleetwood host the show.
It was odd from the very start as the height difference, weird appearances and vacant expressions meant the whole night was a mess.
Wrong names were read out, and guests would walk on at the wrong times. Due to the chaos of the night, the Brits were never broadcast live until 2007.
 3. Geri Halliwell debuts the Union Jack dress (1997)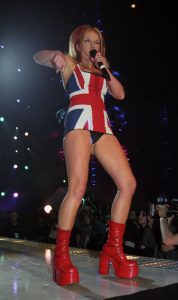 When you think of Ginger Spice AKA Geri Halliwell, most minds wander to THAT Union Jack dress.
She debuted this dress during a performance of Wannabe and stunned viewers with this eye-catching number.
She was initially planning to wear a black dress but decided to spice it up by sewing a tea towel of the British flag to the front of it. Genius.
 2. Madonna falling (2015)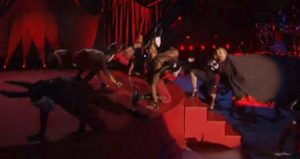 The queen of pop performed at the end of the 2015 ceremony and sang her new song Living For Love.
After minutes of build-up and tension, Madonna appeared in a large black cape and high heels and began her song.
Just seconds into her performance while ascending some steps, a dancer tried to pull her cape off but instead yanked the then 56-year-old off the stairs, causing her to tumble backwards.
There was a quiet gasp in the audience while the singer got to her feet, but she recovered quickly. It is safe to say most viewers rewound that moment.
1. Jarvis cocker crashes Michael Jackson's performance (1996)  
This was easily the most controversial and shocking moment of the Brits as it is still talked about 24 years later.
While performing Earth Song, Michael Jackson was out-shined by Pulp singer, Jarvis Cocker.
Cocker said he was "bored and frustrated" at Jackson's performance as he wore a white robe surrounded by children dressed in rags. It was a messianic performance, and Jackson paraded around like he was christ.
This angered Cocker, so he stormed the stage, bent over, put his hands near his backside and wafted his hands towards Jackson. Cocker was detained for several hours because of this incident and most iconically, was banned from the Brits for over ten years.