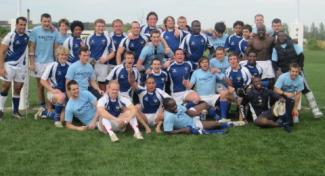 Kingston rugby captain, Dan Phoenix, has promised that his new look side will 'enjoy the year' and mount a serious title challenge in the coming campaign.
Despite a promising start to last season, the Cougars eventually finished fourth in the South Eastern Division 3A, as four defeats in their final six games derailed any lingering hopes of promotion.
However, new captain Phoenix believes that the early signs look promising for the upcoming campaign: "It is going to be a tough season but so far everything is looking great. We have only had a couple of training sessions but all the boys are buzzing and the work rate has been excellent.
"Of course promotion is the aim, and I believe this is a realistic goal that we can achieve."
Improve the side
Despite many key players graduating last year, Phoenix is happy that the latest batch of freshers he has recruited will help improve the side.
"It is always disappointing to lose senior players as we did at the end of last year", Phoenix said. "But the freshers who have attended training so far have been impressive. Some experienced players have signed up as well which is always important."
If promotion is to be achieved, Phoenix will have to lead his side to victory against tough outfits such as Roehampton firsts and Brighton seconds, both of whom finished above Kingston in the table last season.
Enjoy the year
Phoenix is convinced that under his leadership and backed by his trusted committee, his team can have a successful and enjoyable campaign.
"We will have to see how the first few games go but I have a very good committee behind me who I know I can trust. Given their support and total commitment from all the lads, I am convinced we can have a good season.
"Whatever happens, I will try to enjoy the year, and I can promise all the lads that we will have a night out every Wednesday, win, lose or draw!"
Kingston kick off their season in a friendly match against local rivals Roehampton on October 9.