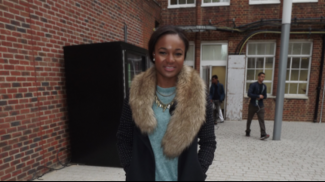 It's a new academic year, which means a new batch of student styles to admire. Next time you think about picking that dirty top off the floor or going to a lecture in make up from last night, think again. Kingston University is full of fashionistas – lecturers as well as students. Here are some of the best dressed students we spotted at Kingston this week.
90s Grunge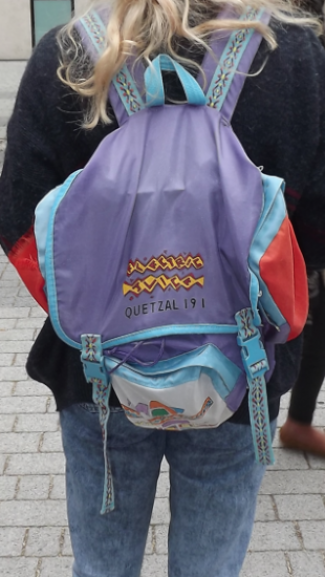 The 90s have made a comeback this year and it looks like this new fashion craze is here to stay. Hair scrunchies, colourful backpacks, crop tops, 'mom' jeans and creepers continue to be a fashion must have. Lizzie Roberto shows us that mixing vintage and high street is doable. FROWers at New York and London Fashion Week also showed us that the 90s are back! Jourdan Dunn, Rihanna and Katy Perry are just some of the names that sported the trend last month.
Fashion tip: vintage stores too expensive? Check out your local charity shop for a bargain!
Cardigan – Rokit
Shirt – vintage
Jeans – Topshop
Creepers – Underground
Bag – charity shop
Faux Fur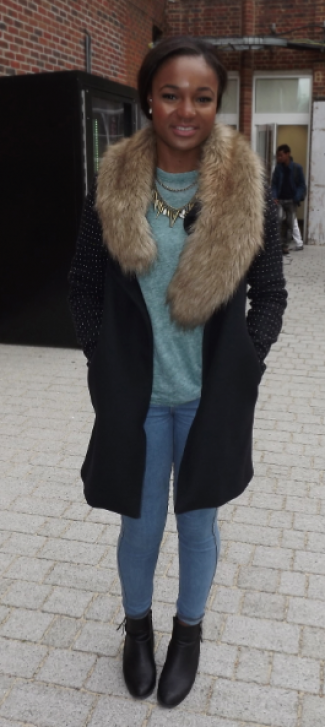 The sun may be shining but lower temperatures are approaching quicker than we would like, so it's time to bring back those coats and boots. Adeola shows that you can wrap up in style this winter as she pairs a faux fur scarf with her outfit: cosy and on trend! Faux fur scarves are perfect for dressing up a classic outfit – as seen here – or they can be easily paired with a jumper and leggings. Turning a lazy outfit into something glam!
Fashion tip: outfit feeling a bit dull? Add some chunky jewellery to a basic tee to spice it up a bit!
Coat – Zara
Faux fur collar – H&M
Top – Topshop
Jeans – Topshop
Boots – Primark
Pretty In Pastel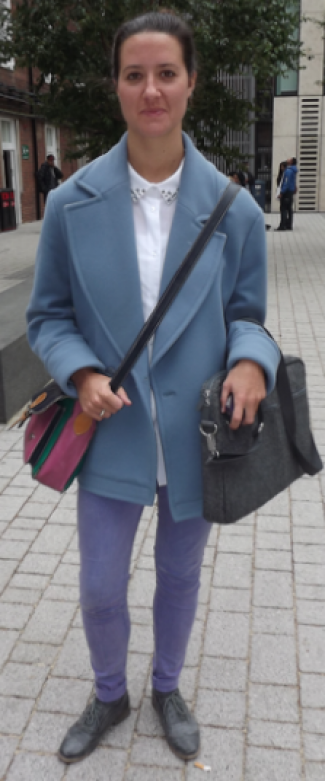 Winter may be around the corner but just because the weather may be duller doesn't mean your wardrobe needs to be. A pop of pastel is a great way to brighten basic colours as you can see here with a white shirt and grey shoes. Pastels were huge last summer and this trend won't be going away any time soon. Pastel coloured coats seem to be filling the A/W 2013 shelves in our favourite high street stoes. Pastels were also one of the trends which were spotted on the catwalk at New York Fashion Week in September.
Fashion tip: pair pastels with basics and neutrals if you don't want to look too girly.
Coat – Reiss
Shirt – H&M
Jeans – Pull and Bear
Shoes – ASOS
Bag – Urban Outfitters
Laptop bag – Accessorize
Wrap Up This Winter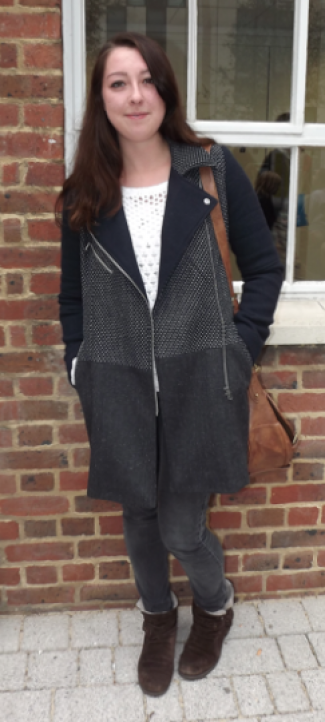 Biker coats can easily rejuvenate an outfit and are a great wardrobe staple for both men and women. Hayley shows us that the coats can be worn simply with jeans and boots this winter and look fashionable while also offering a bit of edge to an outfit. Biker coats have been a favourite for years – on and off the catwalk – and never seem to go off trend, meaning it can be a great investment piece.
Fashion tip: add a bright colour – even white – under a dark coloured jacket to make your outfit stand out.
Coat – Next
Jumper – Warehouse
Jeans – Oasis
Boots – Bank
Bag – Accessorize
Watch out for The River newspaper on campus as next week you could be seen there too.