Bob Noble, chairman of the Surbiton Festival committee said he wanted to change the festival's reputation of having too little to offer the youngsters.
The Surbiton festival, which has had as a goal to gather local residents, charitable groups and businesses in the main streets of Surbiton for over 30 years, aims to get more students attending and contributing in the future.
"We are aware that marching scouts groups in a parade won't attract the younger audience, so we're aiming to get more contemporary music that reaches for example the students," said Mr Noble.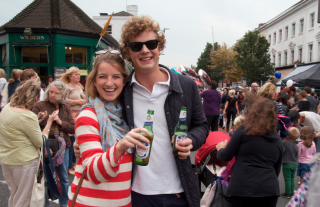 Mr Noble thinks that the whole idea of a 'community festival' might scare the younger audience away, but can ensure that there is something for everyone to engage with.
With the space provided in the Surbiton area, the ideal plan would be to arrange concerts in the evening, and more family friendly events during day time.
"We don't only want students to come and visit, but we would also be grateful if they decided to get involved – whether it is through dance shows, art exhibitions or music, everything is ideal. We know Kingston has creative students," Mr Noble said.
Mr Noble's only requirement for students wishing to get involved is to behave themselves
Surbiton Festival was held from September 21 to 28 and ended with a mask-themed street party and a parade in the centre of Surbiton last Saturday.
RiverOnline spoke to a couple of KU students who had found their way to the festival:"It's a Saturday morning and I am a little tired, but I've been looking forward to this event for too long to miss it," said Maria Valverde, a postgraduate commercials student. "Everyone here is so friendly and welcoming, and I find it a good opportunity to engage with the local community."
"To my fellow students who weren't here today: you missed out on the fun, guys. Surbiton Festival is the most charming event I've attended in ages," said Erik Nilsen, a third-year business student.
More information on how to get involved with Surbiton Festival can be found at www.SurbitonFestival.co.uk