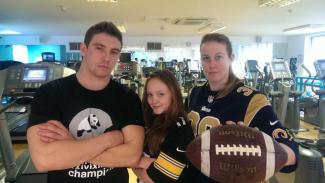 Kingston has become one of the first universities in the country to introduce women's American Football.
The idea came about after the men's team received several interested girls during this year's Fresher's Fayre.
The team has recruited 15 girls so far, but will need more as all players will not be available at all times.
Men's team player James Cherry said: "Your athletic ability doesn't matter, we'll turn you into an athlete. As long as you're intelligent enough to learn the game, we'll teach you the rest."
The team will have two training sessions each week; a theoretical session on Mondays that will focus on teaching the rules of the game and watching match videos, as well as practical sessions on Sundays where everything they've learnt will be put into practice.
"We have a good coaching staff ready to go, and we have the equipment to play flag", Cherry said. "Once we have entered our first tournament then we will be in a position to receive funding from the league to purchase helmets and pads. Practices will be open for new people to join throughout the year.
"The full contact tournaments will be after Christmas although the ideal would be to have the team ready by November as there will be a lot of catching up required."
The first training session will be held in Fairfield Park, Kingston on October 13 from 10am to 12pm.
Those interested in joining are encouraged to contact James Cherry on Facebook, as well as joining the Kingston Women's American Football page.