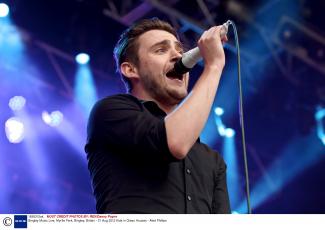 Kids In Glass Houses emerged in the frenzy of post-Blink 182 punk bands alongside the likes of You Me At Six, All Time Low and Fall Out Boy, but despite high expectations of the band their career hasn't been one of constant success. However, at the release show of their fourth album Peace at The Peel, the quintet showed signs of their best work yet, with a live performance that matched the quality of the album which is full of out and out pop tunes.
The small, secluded venue was packed with dedicated fans as the band opened with title track Peace, an energetic, catchy song that is classic Kids In Glass Houses guitar pop. Playing their new record in full flow, the pulsating sythesizers of Set My Body Free made you want to move your body.
Although Kids In Glass Houses guitar wielding peers will never release an album like Peace, it still shows how far the band have come since releasing their first record Smart Casual back in 2008. This is what they do best, writing uplifting songs that you can either embrace the lyrical meanings of or simply dance along to them. The latter is what the crowd did.
After playing the last track of Peace, Nightcrawler, which closed the album with soaring vocals from frontman Aled Phillips whilst standing on a speaker, their older tunes were received with piercing screams from the crowd as they jumped, stomped and moshed to classics Saturday and Youngblood. Having thrashed about on stage for 90 minutes and brought the reclusive venue to its knees, the parting message to the crowd from Phillips was: "Support the independent music store and we will see you on tour in October." I'm sure after that performance we will see plenty more of Kids In Glass Houses next year.