Two Kingston students cemented their place in the best American football team in the country after the London Warriors won this year's BritBowl.
Stuart Milloy,21, and Nino Mario Stylianou, 21, helped the Warriors defeat their rivals London Blitz in a tense 26-23 game last Saturday. By winning the BritBowl – the British equivalent of the Super Bowl – the two hard-hitting, high-flying students secured a place in the Warriors' history.
Stylianou, 21, said: "When that whistle blew and you knew it was over and you collect the medal as the best team in the country, it feels pretty awesome."
He added: "This is our first year with the London Warriors so it was extraordinary going all the way up to Leeds and then winning the championship."
Moment that mattered
The Warriors gained an undefeated campaign with 12 victories and no losses. The team got to travel to their third consecutive BritBowl against the Blitz, having lost the last two. This year's final was closer than ever.
Milloy, who studies human biology, said: "As the quarterback threw the ball it got tipped in the air by a defender. That was the moment when everything froze and it felt like the ball went in slow motion into our player's hands for a touchdown."
The touchdown gave the Warriors a five-point lead after trailing by two points late in the fourth period. The Blitz forced the Warriors'defence to a safety that gave the previous champions two more points but it wasn't enough.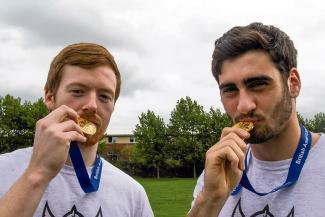 Rivalry
"In a game of American football it can go either way very quickly," said Stylianou. "There was definitely a point when we thought that we were going to lose this. Fortunately, our offence held strong and our defence made some amazing plays and we won at the end. Amazing feeling."
Milloy and Stylianou play important positions on their team. Milloy is a wide receiver, where he catches the ball thrown from the quarterback, whereas Stylianou plays cornerback, preventing the opposing wide receiver from intercepting the pass.
"It is a rivalry between us at practice. I probably win most of our duels," said Milloy.
Stylianou argued: "I reckon it's more 50-50. I tend to hurt you more than the other way around."
Amazing feeling
Both players also play for the KU American football team. "Last year with the Cougars we reached national playoffs," said Milloy. "Hopefully we can go one step further and reach the quarter final."
The most important match for them will be in March in the fifth annual varsity series against Surrey University.
"This year's varsity is going to be a big one. I think we are going to do well in the rivalry against Surrey," said Stylianou.