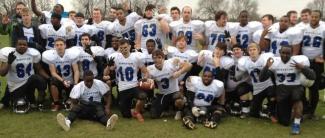 KU students may find themselves priced out of certain sports clubs after the University reduced the sports budget by £39,000, forcing the sports membership card to increase to £35.
Students have complained about the cutbacks and the expenses that may come with joining some sports such as scuba diving (£200) and American football (£230), with the University also requiring them to purchase a sports card and pay a joining fee.
James Cherry, head of the American football team, said he was concerned about the costs. "American football is an expensive sport to play, with the referee costs, ambulances and travelling with a team of 50," he said.
"Each of our players purchased their kit for £230 and league fees of £20, which is not cheap. With cutbacks, committees will need to work harder to raise money for their clubs. Last year, we fulfilled this by holding events like our Super Bowl party."
He added: "If the cutbacks increase, our committee will just need to work harder to cover shortfalls. The cutbacks are also hindering the setup of a women's American football team."
KU student, Harry Plummer, who is also head of the Kingston University snow sports club, explained that the cutbacks have forced them to consider dropping one of their local trips, which attract students every year for its great learning experiences.
"We have had our funding cut this year, meaning we will have to drop one of our extra trips to the indoor snowdome in Milton Keynes because we subsidise the travel for members. The cuts mean that we can't cover the cost of the coach for one of the trips," he said.
Plummer had planned to run an extra trip this year due to high demands, but the cuts mean that it may be unaffordable.
"Loads of people want to go, but because of the cuts, we can't afford to run the extra trip, allowing another 70 people to go," he added.
"The sports cards have gone up by a fiver which helps bring back some of that money lost in the cuts but still nowhere near the £39,000," he added.
KUSU has been forced to reduce the funding to each club (some more than others), however it is "too early" to determine the extent of the impacts, Plummer said.
Geraldine Nyathi, 22, who joined the cheaper option of ladies' basketball, said: "It seems that these things are only meant for people with loads of money. It will definitely alienate some students," she added.
Alastair Burr, sports co-ordinator for KUSU, has confirmed that funding was negotiated with the University over the summer and will benefit students in the long term.
He said: "Whilst, it is regrettable that the sports card has gone up and students have to pay more for their sporting experience, it means we do not have to reduce the sporting offer we currently supply students with.
"We negotiated with the University for funding towards community partnerships which in turn have decreased the amount we will have to pay on hiring external indoor and outdoor facilities."
He added: "I will be working with students and the University to find external sports grants to apply for to reduce any possible further reductions to services."