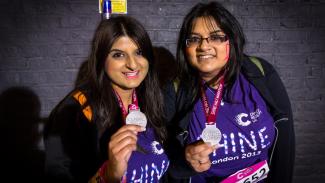 Third year Kingston geography student and Hodgkin's Lymphoma survivor, Leena Sirpal, raised nearly £2500 by walking 13.6 miles through London overnight.
Leena, 20, walked for Shine London 2013 with 16,000 other Shiners on September 28 with her sister Seema to raise money for Cancer Research.
"The reason I wanted to take part is because I felt it was a way of giving something back as I suffered from cancer six years ago and also because the walk was on September 28, which was six years from my date of diagnosis," said Leena.
Charity
Leena was able to meet her idol Johnny Depp through charity Starlight Children's Foundation in 2011. She sees taking part in Shine London is just one way of giving back.
Leena crossed the finish line at 4am, six hours after the walk began.
"The walk started off with everyone cheering, being Chexcited and loud. Everyone was energetic and upbeat however by about the eight mile mark the crowd was silent, people were getting tired and the only sound was the cars on the road," said Leena.
Overnight walk
Battersea power station, the start and ending point for the walk, was lit up pink and purple which were the theme colours.
Leena raised over £2,000 – her original target was £300 – for her chosen charity Childrens Cancer.
"The reason we chose the charity is because out of all of them it was the closest to our hearts."