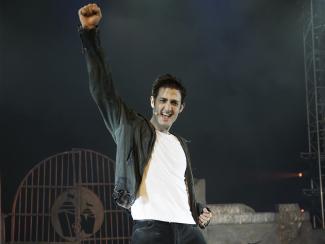 Oliver grins at his first memory of performing, dressed as a giant star aged seven after being pulled out of lessons on the day of the school's nativity.
"I had probably been a real exhibitionist," he says of his school days. "I had not been involved with the show at all and all of a sudden a boy became ill and I was promoted to first cover star."
The 32-year-old has since been promoted to rock star and is now entering his second year in We Will Rock You, playing the shy male lead Galileo, a far cry from outgoing Queen frontman Freddie Mercury.
"My biggest fear is public speaking"
His dressing room is small but cosy, plastered in photographs of co-stars, friends and family. "It is like a teenage boy's bedroom," he laughs, apologising as he picks up a PlayStation remote from the floor.
He chuckles hesitantly when asked what scares him the most. "Wow. We are going deep. My biggest fear is probably public speaking," he rolls his eyes at the irony. "It is strange because I am an actor who gets up on stage. But doing the best man speech for my brother's wedding was the scariest thing I have ever done in my life. Never again! Everyone is expecting you to be funny. I would never be a stand-up comedian."
His chosen career, had he not become successful in the musical theatre industry, would not have been in the world of comedy. "I would probably be a P.E teacher. I love P.E. Or I wanted to be a cameraman at one point. But I probably would be a grumpy old man if I had gone down a different career path."
"I auditioned for it years ago and I sang a duet from the show, Hammer to Fall, doing the girl's part as well just because I wanted to show off," he says, chuckling as he remembers being rejected for his 6ft3 height.
Multi-talented
"Their reason was that I was too tall. But I probably was not good enough either. Then I got the lead role of Drew in Rock of Ages and Brian May saw me in a different light, other than the smaller, more musical theatre style role of Fiyero in Wicked, and poached me."
It has been four years since Oliver was in the smash hit prequel to the Wizard of Oz, but the memories clearly stick with him.
"I remember once myself and Kerry Ellis, who played Elphaba at the time, corpsed so badly once in As Long As You're Mine that barely a word was sung and the audience did not clap at the end, they just talked among themselves," he grimaces as he recalls the occasion he attributes as his most embarrassing moment on stage.
"We were quite angry at each other for a while. We did not need a telling off by the director, we felt so bad because the audience were disgusted with us."
Despite a busy performance schedule, he still believes in exercising his voice. "When I warm up before a show and when I am in the shower I always try and sing a different song to the material I sing in the show. Or if there is a song on my iPod, I sing along."
His ideal leading lady gives an indication of the music that might be found on his iPod. "If Rachel Wooding, who currently plays Scaramouche in We Will Rock You, was not available, I would like P!nk to do it," he says with a grin. "That would be great!"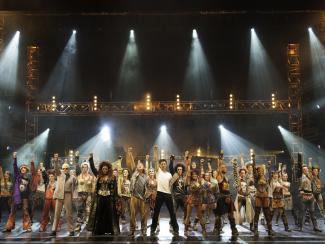 When he can find time to juggle anything around his job and newborn baby, Oliver spends his time working on his second solo album with his brother.
Instead of producing an initial CD, they are releasing two new songs at the beginning of every month. "We wanted to try something different," he says, acknowledging how much the music industry has changed recently with increasing free downloads. "Spreading the releases out gives people something to look forward to. Also, if you set yourself a deadline it generally happens."
He catches me glancing around the dressing room again as we leave. "I have got a cardboard cut-out of my dog," he announces proudly, pulling out a large image of a golden retriever and poodle crossbreed from behind a guitar. "It is life-size! My brother made it for his best man speech for my wedding. It was attached to a remote control car and people kept picking up the controls all night so he kept zooming around the dance floor. It was amazing."
He shakes his head when I ask if the announcement for physical warm up 10 minutes ago was for him. "I only have to do vocal warm up, but I generally just do a few star jumps and I will be fine."
Oliver Tompsett is in We Will Rock You at the Dominion Theatre, London, Monday to Saturday.