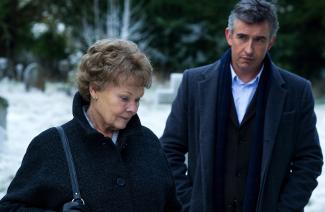 Philomena, starring Judi Dench and Steve Coogan, is one of the best movies at this year's BFI London Film Festival.
It's based on the true story of an elderly Catholic woman, Philomena Lee, who is searching for her long-lost son with the help of atheist and reluctant journalist Martin Sixsmith.
The exchanges and confrontations of the drama's two powerful main characters are irresistible.
Steve Coogan, who is riding high on the success of Alan Partridge: Alpha Papa, produced a great performance, while Dame Judi Dench seems to be in search of another Oscar nomination.
The acclaimed British director Stephen Frears (The Queen, High Fidelity) has made an amusing and absorbing movie, which focuses on the spirit of a woman who continues to trust and believe in God despite the tremendous injustice she has suffered.
Philomena defends her faith against Martin, who never avoids showing his scepticism.
In the end, their unlikely friendship is a tribute to the human capacity to go beyond prejudice and join forces in the essential search for truth.
Although the plot may be quite similar to Peter Mullan's The Magdalene Sisters, Frears's approach to the subject is completely different.
Compared to Mullan's story of four Irish girls who were sent to the infamous Magdalene Laundries in order to atone for their "sins", Philomena is a more engaging mixture of genres, touching and witty at the same time.
Philomena won the best screenplay award at the Venice Film Festival.
Despite or perhaps because of the film's theme, Steven Frears said that he would like the Pope to see Philomena because "he seems a rather good bloke."
Philomena will be released in cinemas on November 1.