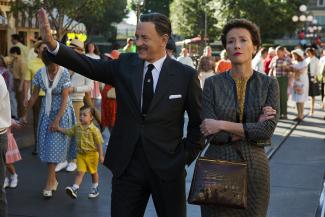 With flying nannies, singing penguins and infectious musical numbers, Mary Poppins will forever be considered a classic.
Nearly 50 years after the film was released, Saving Mr Banks tells the untold story of the production of the film and how our favourite nanny nearly did not make it on to the big screen.
Emma Thompson, who played a magical nanny in the children's film Nanny McPhee, stars as the eccentric and highly opinionated author, Pamela Travers, or Mrs Travers as she demands to be known.
Walt Disney's quest
Tom Hanks stars as the prolific film producer, Walt Disney. It was widely known that Disney pursued author PL Travers for the rights, as he had made a promise to his daughters that he would make their favourite book into a film.
She resisted many attempts made by Disney in his quest to get the rights to the book.
In 1961 he spent two weeks with Travers in Los Angeles, while he pulled out all the stops, getting talented artists, animators and songwriters to help persuade her.
Animation was not something Travers was a fan of.
"I won't have her (Mary Poppins) turned into one of your silly cartoons," Travers blasts, when Disney suggests it.
The film opens in Australia in 1907 where a young Travers, played by newcomer Annie Rose, is playing in her garden with her father (Colin Farrell).
It then moves to 1961 where Travers is being persuaded to go to Los Angeles by her literary agent to speak to Disney about signing over the rights to her book.
The flashbacks to 1907 act as a subplot that is cleverly woven into the film. It acts as a brilliant structural device slowly revealing the characters who affected Travers the most during her traumatic childhood.
Her father was an alcoholic and her mother, played by Ruth Wilson, was suicidal. These people and experiences greatly influenced the story of Mary Poppins as a whole.
No Dick Van Dyke?
Travers is very protective of her beloved Mary Poppins book and rejects nearly all of the creative decisions and changes that come with adapting it into a film – especially animation and singing.
She refuses to have the colour red in the film and even objects to Dick Van Dyke being cast as Bert.
Who can imagine Mary Poppins without Dick Van Dyke?
The same goes for Mr Banks's moustache, another feature suggested by Disney that Travers objected to.
If you are expecting to watch a film full of the classic Mary Poppins toe-tappingly addictive musical numbers, then be prepared to be disappointed.
This is the story about the making of the film, so it does not need the songs.
Although director Jon Lee Hancock does not overfill the movie with music from the film, I am sure you will find yourself singing Lets Go Fly A Kite as you leave the cinema.
Emma Thompson has said that this is the best role she has ever played and her performance definitely lives up to that. Hanks's performance as the famous producer is uncanny and absolutely brilliant.
Saving Mr Banks surpasses all expectations and it is positively supercalifragilisticexpialidocious.
Saving Mr Banks will be released in cinemas November 29.