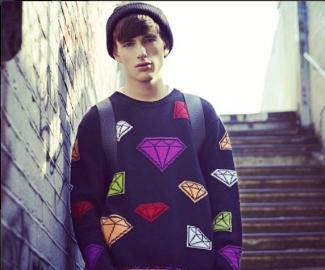 A KU fashion student wows Topman with her 'vintage fisherman' jumper design, which is now sold in the high street store.
Trina Outram, fashion design student, took part in the 'Wool School' initiative, a campaign that encourages young designers to engage and experiment with wool.
She was among over 100 other KU students to design and submit a knitwear jumper design to fit Topman's distinctive style.
"Once we saw Trina's design we knew this was the way we wanted to go," said Topman creative director Gordon Richardson.
"Out of all the designs presented to us this ticked the most boxes in terms of our Topman customer and aesthetic.
'Wool School' campaign
The design itself references both vintage knitwear and modern streetwear with a bold and colourful geometric graphic. We are delighted with the outcome."
Kingston is one of the 12 universities that got involved with the 'Wool School' campaign, and this year it was paired up with Topman, one of the UK's top retailers.
Fashion students were briefed on what the modern menswear brand was looking for in their designs, with this year's theme being 'knitwear traditions of the British isles'.
"I don't specialise in knitwear," said the 21 year-old. "But I think Topman is a prestigious brand, so I thought to myself 'this is quite a good opportunity'. I might as well give it a shot. It turned out pretty well!"
The research process was a long and careful one: "I wanted to bring in the vintage influence so I looked into fisherman jumpers, but I wanted to bring a modern twist to them" said Trina.
"Hipsters, skaters…I mashed all of this together and came up with the diamond design, it just all fit into place."
The campaign received over 100 entries from the collaborating universities. Trina's colourful diamond design was chosen, manufactured and is now being sold for £50 in Topman at Oxford Circus and online.
Meeting Prince Charles
'Wool School' is part of a bigger project, The Campaign for Wool, which started in 2010 and has His Royal Highness the Prince of Wales as its patron.
Five per cent of the profit made from jumper sales for this project will go back into fashion education programmes across the UK.
"Seeing my jumper in store was amazing. I went up to Oxford Circus on Monday on the launch and meeting Prince Charles was great; he's the patron of the campaign.
"All the winners from each university got to meet him. It was a once in a lifetime experience."
Trina's jumper has received a lot of attention, especially on fashion blogs and on Twitter: "It was just great to see my jumper in GQ," said the fashion student.
"It was on vogue's blog…that was a big moment. It was trending on twitter as well. It's every fashionista's dream."
Dreaming big
The third-year menswear fashion major has big plans for her future. This experience has helped her take a step closer to her dream of becoming a menswear designer and bringing her own personal touch to the fashion industry.
"One thing I learned is to never give up. Just keep going. Ultimately everyone wants to be a designer so you have to stand out in some way. I'd love to do something new in skate wear," she said.
The support Trina got from her family, friends and University was decisive. She is happy to be part of the Kingston University fashion programme, as it is extremely well thought of worldwide.
"Kingston is really good, I would recommend it," she said "You learn so much here. Finding out I won was crazy.
"If I saw a person wearing my jumper on the street I would laugh, go up to them and hug them or something. It would be lovely, so great. It's still really weird for me, I can't believe it!"