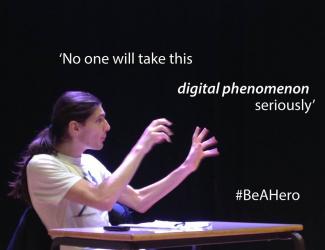 Hero by Nik Way, 20, a creative writing and drama student, explores the idea of becoming addicted to technology. It involves an eclectic cast of Kingston students across a range of different degrees.
"While performing at the Edinburgh Fringe festival, there was this guy in the cast who was always messing around on his phone – to the point where it never left his hand," said Nik.
"Our director noticed and said something like 'everyone's addicted', and that's when it hit me.
"We are, as a culture, obsessed with technology – so what if we took it to the extreme? What if someone was actually addicted?"
So the idea for Hero was born, with Way collaborating with friend and fellow KU student, John Bond, 20, to bring his vision to life by co-directing the show.
"Dynamic production"
Hero features a wide cast of KU students in keeping with Nik's desire to create a "dynamic" production.
"There's a lot of characters and scenes shoved into a short period of time, all desperate to have their say," he said.
"We switch between the world of the game, and the real world: where our hero has to face the consequences of his actions and decisions.
"It's epic, funny, and a little unsettling."
The duo, despite being first-time directors, are hoping that Hero will not mark the end of their journey.
"We're hoping to create a theatre company that will give Kingston students opportunities to be in shows outside of their course," said Way.
Future projects?
"Hero has given me the confidence to go on and work on other projects in the future. It isn't going to be the end," added Bond.
The production will take place on the 6-8 November at 7.30pm in the Reg Bailey building on Penrhyn Road campus, and is free to attend.
For more information and tickets click here
Show blurb: Brad is not addicted. He just likes playing his new video game, 'The Sword of Cyorn'. Other people don't see it that way, they see a man going nowhere, staring at a screen all day. As the lines between Cyorn and reality start to blur, he's got to remember that it's just a game… isn't it?