By Peter Greenley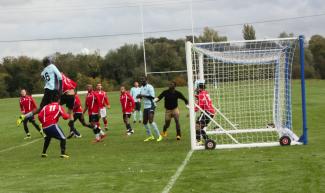 It was a good day for football as all three sides representing Kingston in the conference plate were victorious with standout performance coming from Dave Baptista in the 7-1 rout by the thirds.
Kingston Senior Dave Baptista led the thirds to victory against Middlesex fourths with a couple of goals coming either side half time with five other players also registering on the score sheet for Kingston.
Optimistic
Kingston Captain Josh Everest spoke after the game about his team's performance saying: "We were very happy with the first half, as we scored five goals, and then we played for the result in the second.
"We rotated a lot of the team to give the players game time in the second half. We are a top tier team in the cup and I reckon we can go quite far in the competition. We enjoy a cup run and we will go as far as we can in it."
After midfielder Baptista opened the scoring for Kingston after only nine minutes from the penalty spot, they were then awarded an indirect free kick moments later which was headed against the bar and finally slammed home from the edge of the box by Luke Armstrong.
Controversy
After Shar Razr made the scoreline 3-0 he turned provider for Matthew Taiwo to score a towering header at the back post, before a second penalty in the half, won and converted by Toby Mason ended the half at 5-0.
There was some controversy in the match as Captain Josh Everest received a yellow card after reacting violently to what he called an 'outrageous challenge' by the Middlesex striker towards the end of the first half.
Kingston conceded early in the second half before re-establishing their dominance with a second goal from Baptista before substitute Sadiq rounded the keeper to complete the rout.
Elsewhere the Kingston fourths sealed their place in the third round with a comfortable 1-0 victory over St Barts seconds provided by a close-range header by centre-back Jake Newman early in the second half.
Kingston seconds also progressed through to the next round of the cup with a 2-0 victory away in Buckinghamshire.